Department of Biological and Agricultural Engineering
Department of Biological and Agricultural Engineering
1910s
1918
Early agricultural equipment courses
Service courses in farm equipment were taught by in the Department of Agronomy, but not by an engineering. True agricultural engineering courses were first taught in the 1920-1921 academic year.
1920s
1920-1921
First agricultural engineering courses
The agricultural engineering instructional program commenced in the 1920-1921 academic year. R. E. Bosque and H. D. Lewis were the earliest instructors, and they were part of the agronomy faculty.
1930s
1937
Agricultural Engineering degrees first offered
1940s
1950s
1960s
8/1967
New tobacco harvesting equipment
William E. Splinter, on the faculty of the Department of Biological and Agricultural Engineering, with tobacco harvesting equipment that he helped develop. Throughout the history of North Carolina State University, research and development conducted by its faculty and students have assisted North Carolina farmers.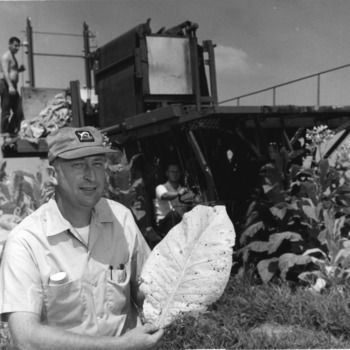 1970s
1979
Departmental History Published
G. W. Giles wrote A Department Grows to Maturity: The History of Agricultural Engineering at N.C. State University 1914 to 1977. An updated version of this history exists today on the department's website.