1890s
1892-1895
Pink and blue colors
The very earliest sports teams at NC State wore pink and blue, colors chosen by the literary societies.
1892-1910
No consistent name
There wasn't a consistent name for the sport teams during the early decades of the college. Names such as "Farmers and Mechanics," "Aggies," and "Techs" were used loosely.
1892
First football game
The first official football game was played against Raleigh Academy, a local prep school. "A&M," which is what NC State was called at the time, won 12-6.
1894
First baseball game
First official baseball game is played, with Guilford College as the opponent.
9/1895
Brown and white colors
The Athletic Association approved brown and white as colors for the sports teams. Use of these colors was very short-lived.
11/1895
Red and white chosen
A majority of students chose red and white as colors for the sports teams. The colors changed a couple different times during the early years of the college. The faculty agreed to the adoption of red and white and stated that they could not be changed again without a vote of two-thirds of the student body. The colors have remained the same ever since.
1898
First track team
The first track team is organized for intercollegiate competition but is disbanded after the season. Track does not reappear at A&M until 1905.
1900s
1902
O.M. Gardner team captain
O.M. Gardner becames team captain of the A & M football team. He later became governor of North Carolina.
1902
Easter Monday tradition
The first Easter Monday baseball game was played, a tradition that would last until 1947. That first game was against Wake Forest.
1907
First football game on campus
The first on-campus football game is played at the new athletic field that would later become Riddick Stadium. The game ends for A & M College with a 20-0 victory over Randolph-Macon College, securing the Southern Intercollegiate Association championship for A & M, with six wins and one tie.
1907
First baseball state championship
The A & M College baseball team claim their first state championship, with a 14-7 record.
1910s
1910
Basketball Team formed
Basketball, sponsored by the campus YMCA, began in the fall of 1910.
1910
Baseball championship
The A&M baseball team wins the South Atlantic Conference championship, with a record of 18-1.
2/8/1911
First basketball game
The A&M College basketball team play their first official game at Wake Forest, losing 33-6.
2/20/1911
First basketball game in Raleigh
The A&M College basketball team takes on Wake Forest in the first intercollegiate basketball game played in Raleigh, winning 19-18.
April 1911
Dave Robertson sets strikeout record
Dave Robertson played on the football, basketball, and track teams; however he was best known for baseball. He set the school record in April 1911, striking out 23 batters in one game. The record was not broken until 2009. He went on to play nine seasons in the National Baseball League, from 1912 to 1922.
1918
First All-American athlete
Football player John Ripple becomes the first All-American athlete at State College.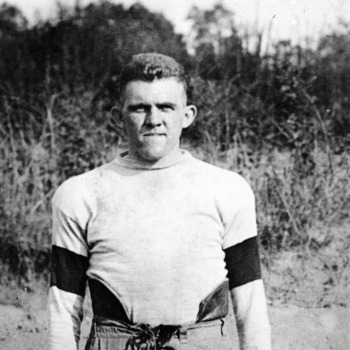 1918
New Monogram
The monogram showing the letter "S" in block style with the letters "N" and "C" nestled within the spaces first appears in the Agromeck.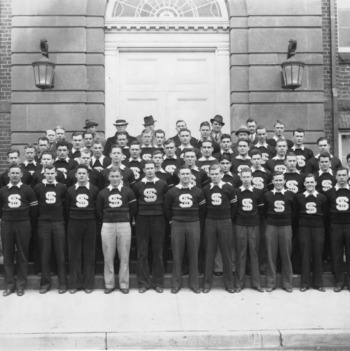 1920s
5/14/1920
Athletic letter sweaters
The Athletics Council makes a decision to award sweaters to athletes who receive monograms ("letters") for their athletic accomplishments; the first letter sweaters appear on campus shortly thereafter.
1921
Southern Conference
NC State became a charter member of the Southern Intercollegiate Conference for athletics. This organization later changed its name to the Southern Conference.
1921
Wolfpack nickname
The nickname "Wolfpack" was first used for an NC State athletic team. An alumnus wrote a letter published in the Feb. 1921 Alumni News suggesting the name "Wolf Pack" for NC State's football team. (Another legend indicates an unidentified newspaper published a letter in which someone complained that the football team was "unruly as a pack of wolves," but that story had not been substantiated.)
1922
Tennis is organized as a varsity sport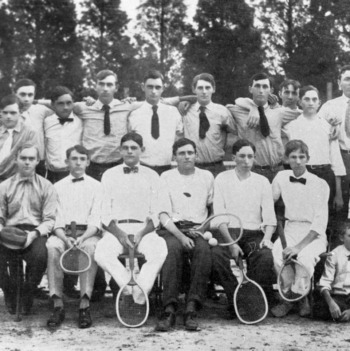 12/15/1922
Cross Country champions
The State College cross country team wins the Cross Country-All State Championship.
1923
New varsity teams
The track and cross-country teams are granted varsity status.
5/11/1923
Frank Thompson Gymnasium named
The new gymnasium on campus is named after Frank Thompson (Class of 1910), a former athlete at State College who was killed during service in WWI.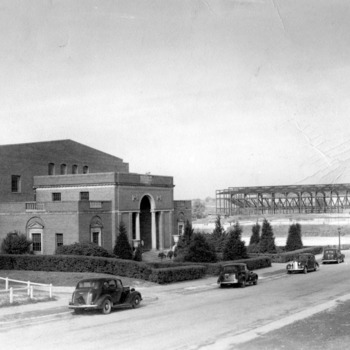 1925
Wrestling becomes a varsity sport
1925
Alma Mater Composed
Class of 1923 alumni Alvin M. Fountain and Bonnie Frank Norris composed the Alma Mater song.
1925
Red Terrors
By 1925, the basketball team was known as the "Red Terrors."
6/8/1925
Thompson Gymnasium Dedicated
Thompson Hall was dedicated as Thompson Gymnasium on this date. It was the first on-campus home dedicated to basketball. Previously, home basketball games had been played in Raleigh Memorial Auditorium. The building was designed by architect Hobart Upjohn and named for alumnus Frank Martin Thompson. The NC State basketball team played there until Reynolds Coliseum opened in 1949.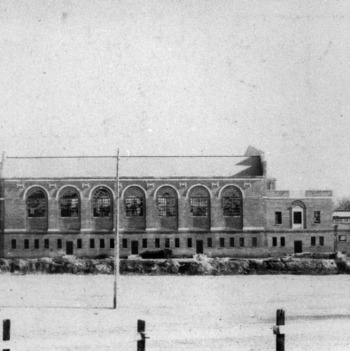 2/5/1927
Academic regulations for athletes
The Athletics Committee decides students must maintain a passing grade in 60% of their classes to play in collegiate athletic events.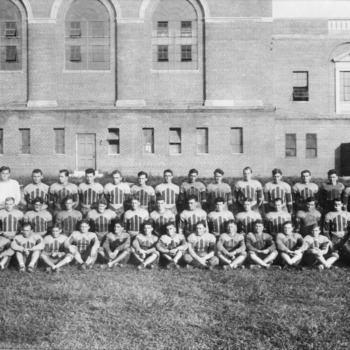 1928
Jack McDowall, Top Athlete
McDowall played on the football, men's basketball, baseball, and track & field teams, earning 11 varsity letters in the four sports. In 1927 and 1928 he won the Norris Athletic Trophy as NC State's top athlete. He holds the school record for the longest punt return, 95 yards. He is considered NC State's top athlete of the first half-century of the college's athletics program. He was named to the North Carolina Sports Hall of Fame in 1965, the ... More
1929
First basketball conference champions
With a 13-6 season record, the basketball team claim their first Southern Conference championship.
1929
First athletics radio broadcasts
Raleigh-area radio station WPTF begins broadcasting State College baseball games.
1930s
1930
First evening football game
The first evening football game is played on campus, a 37-0 victory over High Point.
1930
First golf team is organized
1930
First basketball All-American
Morris Johnson becomes the first State College basketball player to receive All-American honors.
1932
Boxing team's first championship
Charlie Garner earned the State College boxing team an individual win in the 145-pound class at the Southern Conference championships. This marked the first championship victory for the team.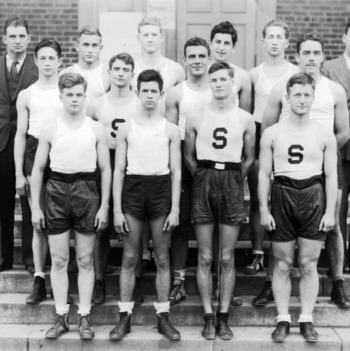 1932
Arthur "Bud" Rose, first All-American selection
Basketball player Arthur "Bud" Rose received an All-American honorable mention for the 1931-1932 season.
10/14/1933
Riddick Field Concrete Stands
State College ties the University of Florida, 0-0, in the first football game held at Riddick Field with its new concrete stands. The field was named for college president Wallace Carl Riddick.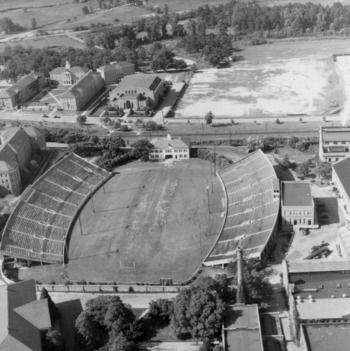 10/19/1935
Electronic scoreboard in Riddick Stadium
A new electric scoreboard and time clock are used at Riddick Stadium for the first time during a game against the University of Georgia. The scoreboard and clock were a donation from the News & Observer.
10/20/1938
Free Homecoming tickets
The Raleigh Junior Chamber of Commerce distributes free tickets to State's Homecoming football game against Furman by releasing balloons with instructions for the finders on how to claim their free tickets.
1939
Wrestling team championship
The wrestling team wins the Southern Conference championship and finishes second to Appalachian State at the Amateur Athletic Union (AAU) meet in Greensboro.
1940s
2/9/1940
New fight song
Fred Waring, prominent national band leader, agrees to write a new fight song for NC State, and to air it during his March 8, 1940 radio program.
11/7/1941
NC State beats UNC in football for the first time in 14 seasons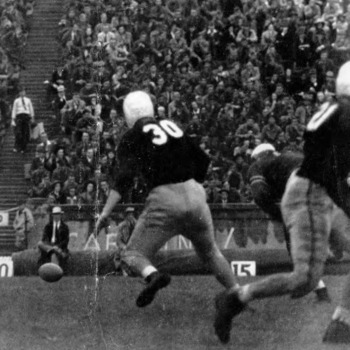 1946
Students vote to keep Wolfpack name
Chancellor J. W. Harrelson asked students to suggest a new name for the sports teams. He disliked the term Wolfpack because of connotations with World War II German U-boat formations. Student voted overwhelmingly, however, to keep the name.
1946
Mechanical Wolfpack mascot
Mechanical engineering student Ira Helms, Jr., created a robot-like Wolfpack mascot costume worn to football games during the 1946 season. One student wore the costume, while another walked behind with a "remote control" that appears to control the "robot's" movements.
1946
Willis Casey hired
Willis Casey is hired as the swimming coach, and the team goes on to win or share sixteen Southern Conference and Atlantic Coast Conference (ACC) championships over the next thirty years.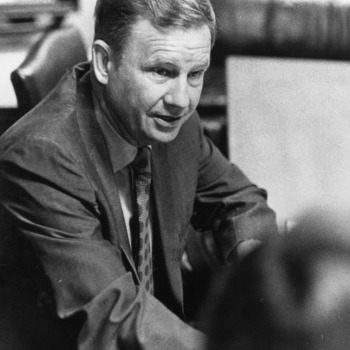 4/26/1946
Everett Case hired
Everett Case is hired as head Men's Basketball coach; with duties beginning on July 1st, 1946. Case coached at NC State until 1965, and remains the winningest basketball coach in the school's history.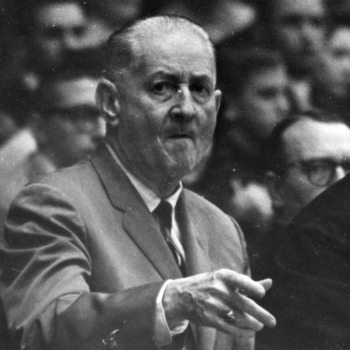 5/25/1946
Big Four baseball title
State College wins its first Big Four baseball title since 1928 with a 4-3 victory over Duke; the game is witnessed by 4,000 fans, which is the largest crowd to ever view a baseball game in Raleigh.
9/28/1946
Football victory over Duke
NC State beats Duke in football for the first time since 1932, with a final score of 13-6; the wife of right end and co-captain Al Phillips gives birth to a baby boy only hours after the contest.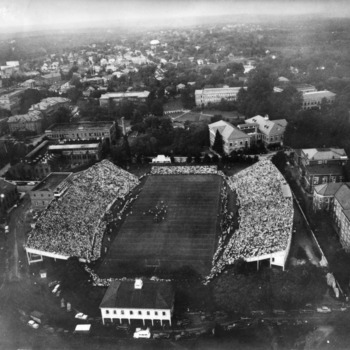 9/28/1946
Marching band returns
A football game against Duke marks the first appearance of the marching band following the conclusion of World War II.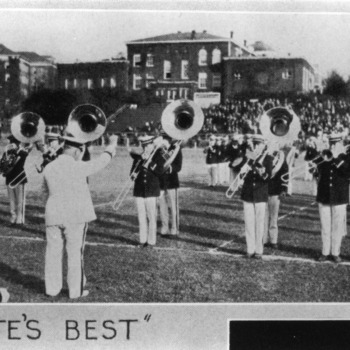 10/18/1946
Trip to Wake Forest football game
State College secures a "victory train" to take 6,000 students to go to the football game against Wake Forest (in Winston-Salem); train tickets are $0.65 and tickets to the game are $1.00.
12/6/1946
First bowl game bid
NC State receives its first-ever bid to a football bowl game (the Gator Bowl), where the team will take on the University of Oklahoma.
1947
Live wolf mascot
Students brought a live timber wolf to football games to roam the sidelines. UPI called the animal a "sniping and snarling bundle of fur." It was eventually sold to a traveling animal show.
1947
Wolfpack name becomes official
All NC State athletics teams adopt Wolfpack as the official name. Previously only the football team was called the Wolfpack, and other sports teams were called the Red Terrors and a variety of other names.
1947
First basketball appearance in a national tournament
The basketball team place third in their first appearance in a national tournament, the National Invitational Tournament (NIT).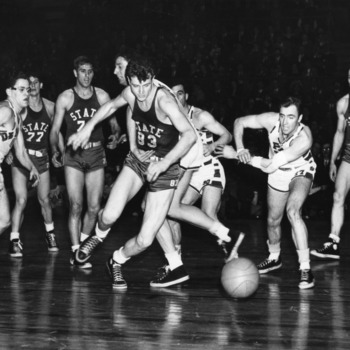 1/1/1947
First football bowl game appearance
The NC State football team make their first bowl game appearance, taking on the University of Oklahoma in the Gator Bowl. NC State unfortunately loses the game, 43-13.
2/25/1947
Forced basketball forfeiture
NC State is forced by the Raleigh fire chief to forfeit a basketball game against UNC because Thompson Gymnasium is too crowded and students refuse to leave the building.
10/13/1947
New intramurals announced
Four new intramural sports to begin NC State: football, volleyball, boxing, and tennis.
11/14/1947
Pep rally plans
A pyrotechnic display consisting of sparklers spelling out "Beat Wake Forest" is planned for the day's pep rally.
1/17/1948
Thompson Gymnasium condemned
The Raleigh city building inspector condemns Thompson Gymnasium just hours before a Men's Basketball game against Duke. Only a few reporters and college officials are allowed to attend the next home game, against High Point College. From then until the completion of Reynolds Coliseum in 1949, home games are played in Raleigh's Memorial Auditorium.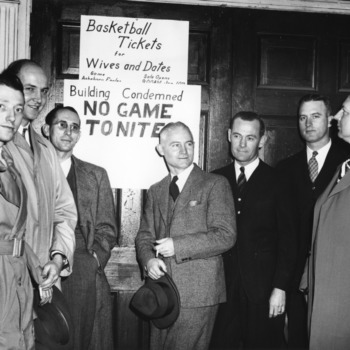 4/10/1948
First Swimming national championship
Bill Despres captures first place in the National Junior 300 yd. Individual Medley Championship of America, becoming the first swimmer from NC State to capture a national championship. Depres' winning time was 3:41:08, just 4.7 seconds slower than the national record.
1949
Soccer becomes a varsity sport
Organized unofficially two years earlier, soccer becomes a varsity sport.
12/1949
Inaugural Dixie Classic
The inaugural Dixie Classic tournament is held. Initiated by Coach Everett N. Case so that the Men's Basketball team wouldn't have to play out of town during the winter holidays, the Dixie Classic continued every year into the 1960s.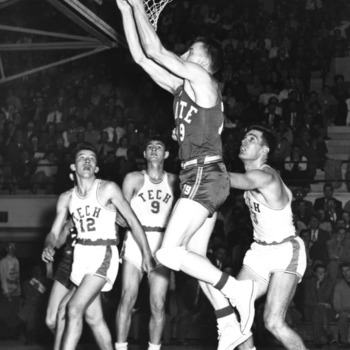 12/2/1949
Reynolds Coliseum opens
Reynolds Coliseum opens, with the NC State Men's Basketball team beating Washington and Lee, 67-47. Not all of the seats had been installed yet, so some fans had to sit on the cement tiers.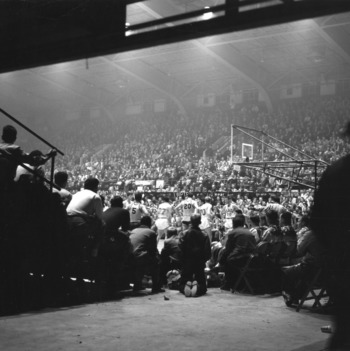 1950s
1950-1959
Cheerleaders in wolf costume
During the 1950s, cheerleaders began to dress in a wolf costume at sports events.
1950
Dick Dickey Leading Scorer
Richard "Dick" Dickey became the first NC State men's basketball player to score 1000 career points (his all time score was 1644). He was one of 3 three-time players in program history, and he is the only four-time all-conference player in NC State history. He was the MVP in the 1949 inaugural Dixie Classic. He was a member of NC State's first Final Four team in 1950 (the team placed 3rd in the NCAA that year), and he played in 4 consecutive ... More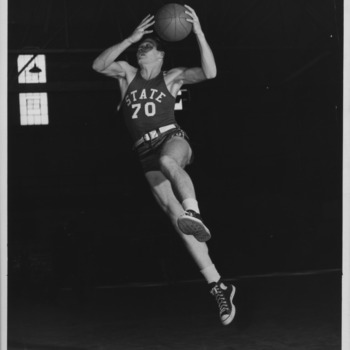 10/21/1950
First televised football game
A State College football game is televised for the first time; the team takes on the University of Maryland in the contest.
1951
Track team championship
The track team win their first Southern Conference championship (and repeat the following year, in 1952). They would also go on to win titles in the Atlantic Coast Conference in 1953 and 1954.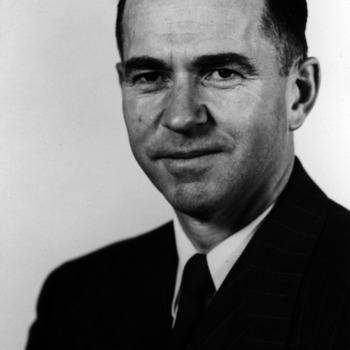 1952
Fencing team granted varsity status
1952
Honors for swimmer Bob Mattson
Swimmer Bob Mattson wins the first of four consecutive All-American honors; in 1955 he also becomes State's first NCAA champion, winning the 200-yard breaststroke.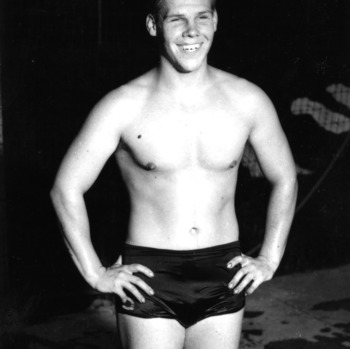 1952
First All-American in Baseball
Shortstop Johnny Yvars was named All-American in baseball in 1952 and 1954. He was also All-Southern Conference and All ACC.
12/5/1952
Cross Country championship
State College celebrates a second consecutive Cross Country Southern Conference championship (the first in 1951), as well as a Dual Meet championship. Runner Buz Sawyer takes first place in the meet, after finishing ninth overall in the nation during a meet the previous week.
1953
Cross Country team ACC champions
The State College Cross Country team became champions during the first year of the ACC. The team also won the ACC championship the following year in 1954.
1953
Atlantic Coast Conference formed
NC State athletics teams withdraw from the Southern Conference and join the newly formed Atlantic Coast Conference.
4/1/1953
World Series of Basketball
A game in the 4th annual World Series of Basketball, featuring the 1953 All-Americans versus the Harlem Globetrotters, is played in Reynolds Coliseum.
1954
Swimming championship
The swimming team wins the Men's Outdoor National AAU Championship.
1954
Swimmer Dick Fadgen
Swimmer Dick Fadgen wins the first of seven NCAA and AAU individual championship swimming events between 1954 and 1956.
1954
Everett Case first named ACC Coach of the Year
The ACC named Case Coach of the Year in 1954. The organization awarded him again with this honor in 1955 and 1958.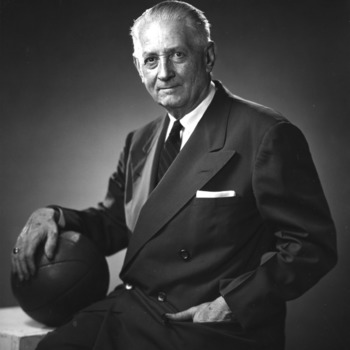 3/1954
ACC Basketball championship
The Men's Basketball team wins the Atlantic Coast Conference championship for the inaugural year of competition in the newly-formed conference.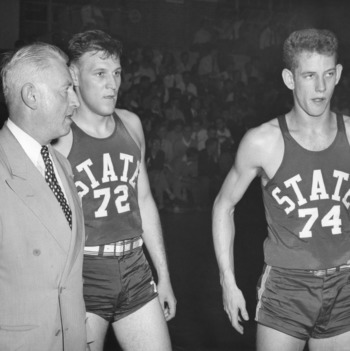 10/15/1954
Hurricane damage
Hurricane Hazel destroys the cupola on Becton Hall and the roof of the press box at Riddick Stadium.
1956
Swimming championship
The swimmimg team wins the Men's Indoor National AAU Championship.
1956
Ronnie Shavlik All American
Men's basketball player Ronnie Shavlik earned his second All American title for the 1955-1956 season. The first occurred during the previous season. He was the ACC's first All American player, and he led the Wolfpack to three consecutive ACC titles in league's first three seasons. After leaving NC State he played two seasons with the New York Knicks. In 2013 he was inducted into the NC State Athletics Hall of Fame.
1957
First Integrated Athletic Team
African American student Irwin Holmes joins the tennis team, making it the first integrated athletic team at State College.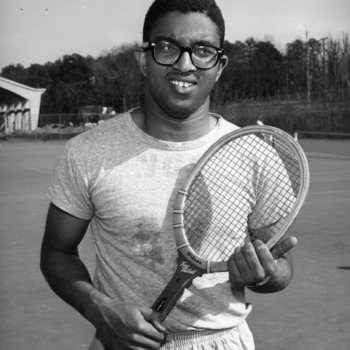 11/25/1957
First ACC football title
The State College football team defeats the University of South Carolina to win their first Atlantic Coast Conference title.
1958
Dixie Classic Tournament win
The basketball team wins the Dixie Classic Tournament against several powerhouse teams, including four teams ranked in the Associated Press' top ten.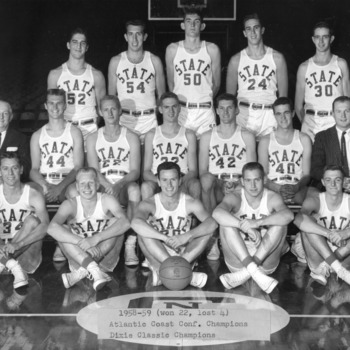 1958
Rifle team gains varsity status
1958
Dick Christy ACC Athlete of the Year
Dick Christy was the 1957 ACC Player of the Year for the football team and 1958 ACC Athlete of the Year. His no. 40 jersey was retired after his time at NCSU. In 1958, he was signed to the Pittsburgh Steelers.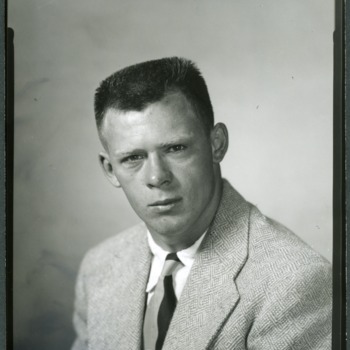 1959
Lou Pucillo, Player of the Year
Pucillo was named both ACC Player of the Year and ACC Athlete of the Year in 1959. The same year he was also named AP All American and UPI All American. He was named All ACC in both 1958 and 1959. In 2002 he was honored as an ACC Legend, and in 2014 he was inducted into the NC State Athletics Hall of Fame.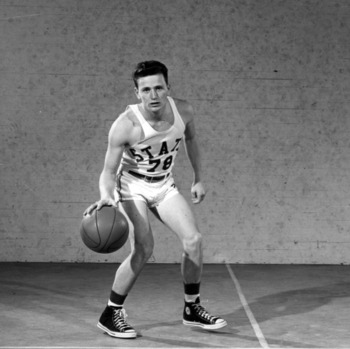 3/9/1959
ACC basketball title
The NC State Men's Basketball team tops UNC to win the ACC championship, 80-56. The victory marks Coach Everett Case's eleventh championship win in his thirteen years of coaching.
1990s
1990
Soccer championship
The Men's Soccer team wins their first ACC championship. Henry Gutierrez scored the game-winning goal.
1990
Charmaine Hooper, All American
Hooper was named NSCAA All American 2 years in a row (1989, 1990), and she was named All ACC in 1988, 1989, and 1990. She has tied the school record for goals in a single game (4), and she led the ACC in goals and total points in 1988 and 1989. She was a member of the team that was ACC champions in 1988 and the teams that made NCAA Tournament appearances between 1987 and 1990 (including the Final Four in 1988). After leaving NC State, she was a WUSA All-Star for ... More
1990
Henry Gutierrez, ACC Tournament MVP in Men's Soccer
Soccer midfielder and forward Henry Gutierrez was a three-time All American (1988, '90, '91,), two-time ACC Player of the Year (1990, '91), 1990 ACC Tournament MVP, and 1991 NC State MVP. After college, Gutierrez became a member of the U.S. National Team and played Major League Soccer before embarking on a successful coaching career.
1991
Andrea Stinson All American
Andrea Stinson gained her second All American honor, making her the only women's basketball player with that distinction. That year she helped her team become ACC tournament champions. The previous year she had been unanimously named ACC Player of the Year. In 2013 she was inducted into the NC State Hall of Fame.
1991
Rodney Monroe ACC Player of the Year
Basketball guard Rodney Monroe became the second NC State player to score more than 2,000 points and eventually broke David Thompson's ACC and school scoring records with 2,551 career points. He played with the Atlanta Hawks after graduating from NC State.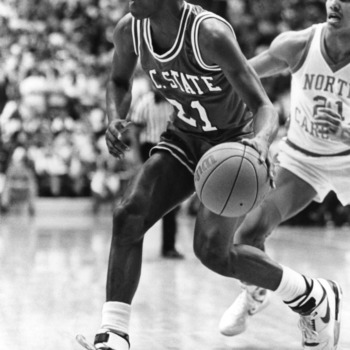 1992
Don Easterling retires
Don Easterling became men's swimming coach in 1970. Under his leadership, the team won 15 ACC Championship titles. He also started the women's program from the ground up in 1976, leading the team to back-to-back ACC titles in 1979 and '80. He coached seven future Olympians.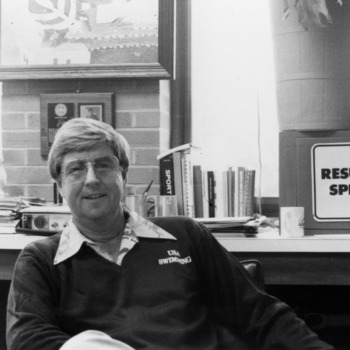 1992
Thori Staples, ACC Rookie of the Year in Women's Soccer
Staples is a four-time All-ACC selection for 1992-1995. She played on the ACC All-Tournament team in 1994 and 1995 and was voted North Carolina Female Athlete of the Year for 1994. After college, Thori became a member of the U.S. National Team from 1992-1999. She was a member of the 1995 FIFA Women's World Cup team and was considered as the nation's top defender during her playing career.
6/24/1992
NBA draft selection
NC State basketball player Tom Gugliotta is selected by the Washington Bullets as the sixth overall pick in the NBA draft.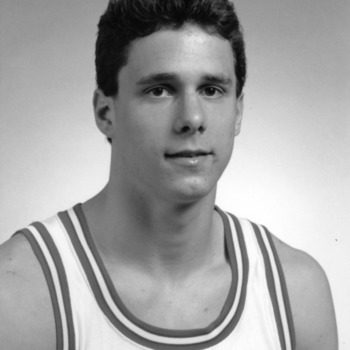 1993
Sylvester Terkay All American
That year wrestler Terkay achieved three-time All American status, and he became the NCAA heavyweight champion. He was also a ACC heavyweight champion four years in a row and ACC heavyweight wrestler of the year three years in a row. In 2013 he was inducted into the NC State Hall of Fame.
1993
David Fox, NCAA Champion in Men's 50 Yard Freestyle
While a student-athlete at NCSU, David Fox won seven ACC titles, one NCAA title, and was the recipient of the Alumni Association Athletic Trophy in 1993. At the 1996 Summer Olympics in Atlanta, GA, he won a gold medal as part of the U.S. 4 X 100-meter relay team. Fox went on to work for Goldman Sachs.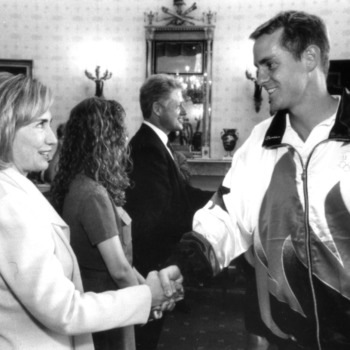 4/28/1993
Jim Valvano, A Legendary Career
Known as "Jimmy V," men's basketball coach Jim Valvano died on this date after battling cancer. His record at NC State was 209-114 and included the 1983 NCAA championship and 2 ACC titles. The Jimmy V Foundation for Cancer Research was founded in his honor. In 2012 he was inducted into the NC State Athletics Hall of Fame.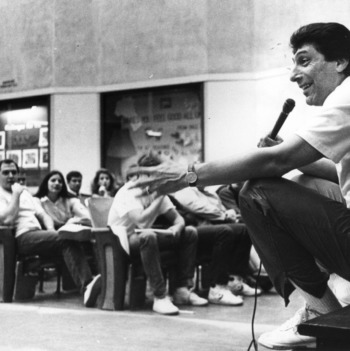 1997
Tim Clark Wins Second NCAA Regional Championship in Golf
Tim Clark is one of four players in school history to be named All-American three times and owns the school record at the NCAA Championship for 54-hole (7-under 209) and 72-hole (12-under 276) score. Clark was also a member of five team championships and the 1996 East Regional championship team. He joined the PGA tour after college.
7/22/1997
Raleigh Entertainment and Sports Arena groundbreaking
A groundbreaking ceremony was held for the new Raleigh Entertainment and Sports Arena, located next to Carter-Finley Stadium, which was being built as the new home of NC State Men's Basketball and the NHL's Carolina Hurricanes. This became the RBC Center and, later, the PNC Arena.
1998
Chasity Melvin, All American
Melvin was named Kodak All American and Women's Basketball Journal All American. She was also a Wade Trophy finalist. She was ACC Rookie of the Year in 1995 and All ACC in 1997 and 1998. She is 1 out of 4 NC State women's basketball players with more than 1000 career points and rebounds (total 2042 points and 1020 rebounds). She was a member of the teams making 4 NCAA Tournament appearances between 1995 and 1998 (including Final Four in 1998). She has been ... More
1998
Torry Holt ACC Player of the Year
Torry Holt played as wide receiver with the football team from 1995 to 1998. He holds numerous school records, and his No. 81 jersey was retired in 1999. He joined the Saint Louis Rams and became a 2000 Super Bowl champion.
3/1998
Women's Basketball in Final Four
The Women's Basketball team reaches the Final Four in the NCAA tournament.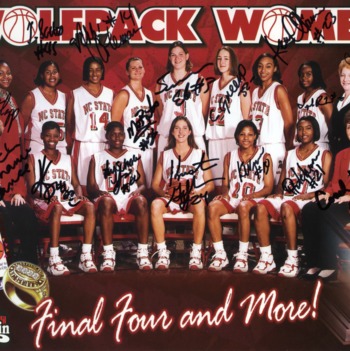 11/19/1999
First game at the PNC Arena
The NC State Men's Basketball team beats Georgia, 67-63, in their first game at the PNC Arena (formerly the RBC Center).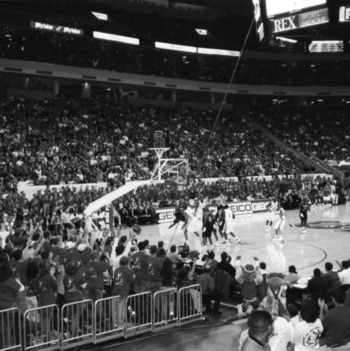 2000s
2000
Women's Golf is reinstated as a varsity sport
Women's Golf is reinstated as a varsity sport. A team was previously fielded from 1980 to 1986.
9/21/2000
Victory celebration
After an overtime football victory over Georgia Tech at Carter-Finley Stadium, NC State students tear down a goalpost and carry it down Hillsborough Street towards campus, making it as far the Waffle House; the goalpost costs $5,000 to replace.
2002
Atlantic Coast Conference's 50th Anniversary
134 NC State athletes are named to the ACC's 50th Anniversary Teams in twenty-one sports.
3/2002
Women's basketball in Final Four for second time
6/2/2002
Track and Field national championship
NC State Track and Field athlete Kristin Price won the individual NCAA championship in the 10,000-meter event. She was a twelve-time All-American in track and cross country.
9/27/2002
Kay Yow honored
NC State Women's Basketball coach Kay Yow was inducted into the Naismith Memorial Basketball Hall of Fame at a ceremony in Springfield, MA.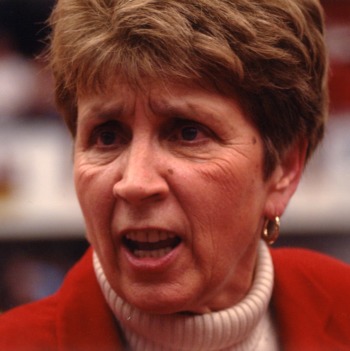 2003
Wendell H. Murphy Football Center opens
Wendell Murphy, an alumnus, is a philanthropist and member of the Alexander Quarles Holladay Lifetime Giving Society.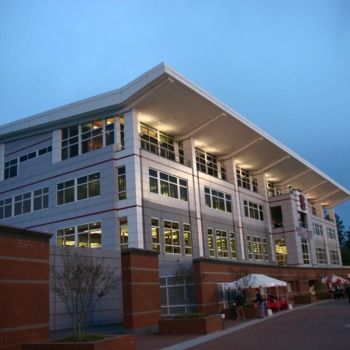 2004
J.W. Isenhour tennis facility opens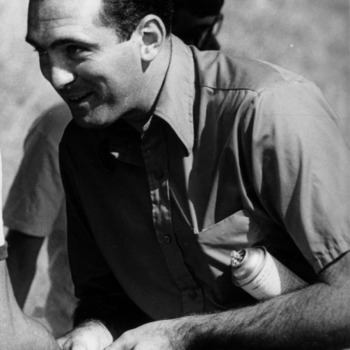 2004
Philip Rivers ACC Male Athlete of the Year
Football quarterback Philip Rivers was chosen as Male Athlete of the Year. He was rookie of the year in 2000 and a four-time bowl MVP for two Tangerine Bowls, the Gator Bowl, and the Senior Bowl. His jersey was retired in 2003 and he joined the NFL as quarterback of the San Diego Chargers in 2004.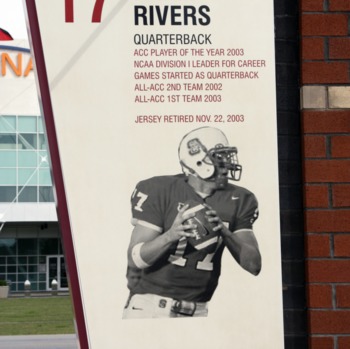 2004
Mario Williams Freshman All-American in Football
Williams was on the All-ACC, 2004 (1st-team) and 2005 (1st team), 2004 Freshman All-American, 2005 Sports Illustrated 1st team All-American, 2005 Walter Camp 2nd team All-American, and 2005 Team MVP. He was the first ACC player ever selected as the first pick in the NFL draft, he was drafted by the Houston Texans in 2006.
2006-3/2011
First African American Head Basketball Coach
Sidney Lowe served as the first African American head coach of the NCSU mens basketball team. Lowe was the starting point guard for NC States 1983 basketball team, which won the national championship. From 1991 to 1993, Lowe served as an assistant coach for the Minnesota Timberwolves. Lowe later served as the head coach of the Timberwolves and the Memphis Grizzlies. In March 2011, Sidney Lowe resigned from his head coach position at NC State. In a statement to the ... More
2007
Kay Yow celebrates 700th Win
NC State Women's Basketball coach Kay Yow celebrated her 700th win. The Wolfpack beat Florida State, 68-51. Yow eventually racked up 737 wins (at NC State and Elon), making her the fifth winningest NCAA Division I basketball coach.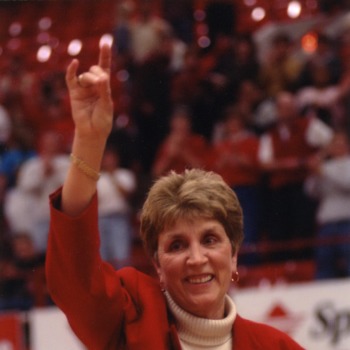 2008
Cullen Jones, gold medal
Cullen Jones wins a gold medal in the 4x100 meter freestyle relay in Beijing. He was also swimmer of the year in 2006
1/24/2009
Kay Yow, A Legendary Career
Legendary women's basketball coach Kay Yow passed away after a long battle with cancer. One of the few women to coach more than 1,000 games at one institution, her NC State record was 680-325. Hoops 4 Hope and the Kay Yow Cancer Fund was initiated to raise money for cancer research. In 2012 she was inducted into the NC State Athletics Hall of Fame.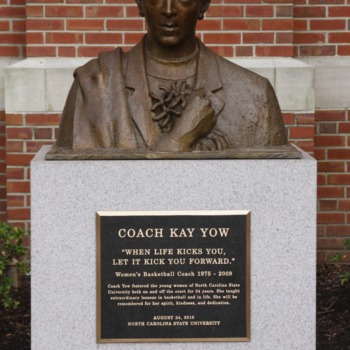 2010s
2010
Mascot Tuffy
A Tamaskan dog named Tuffy became the new live mascot. This breed of dog resembles the wolf-like Siberian husky.