1890s
1894
First baseball game played
The first official baseball game was played with Guilford College as the opponent.
1900s
1902
Easter Monday tradition began
The first Easter Monday baseball game was played against Wake Forest, and this tradition would continue until 1947.
1903
Baseball added as varsity sport
Baseball was the second varsity sport (after football) added to the school by the athletics council.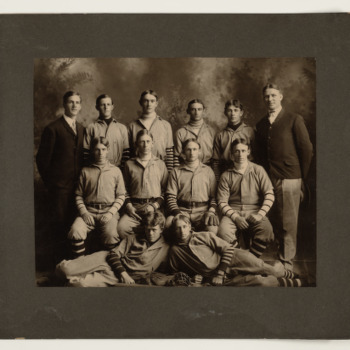 1904
C.D. Welch, baseball head coach
1906
M.J. Kittredge, baseball head coach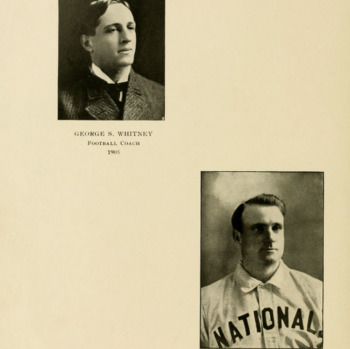 1907
First baseball state championship won
The A&M College baseball team won its first state championship with a 14-7 record.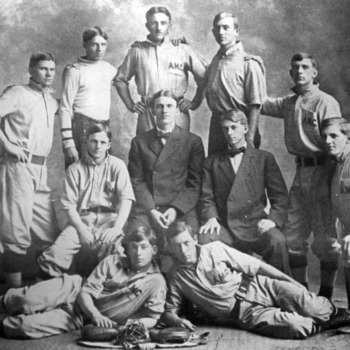 1908-1911
Frank Thompson, baseball head coach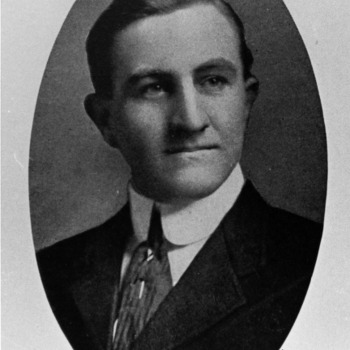 1910s
1910
Baseball team won South Atlantic Conference championship
The A&M baseball team won the South Atlantic Conference championship with a record of 18-1.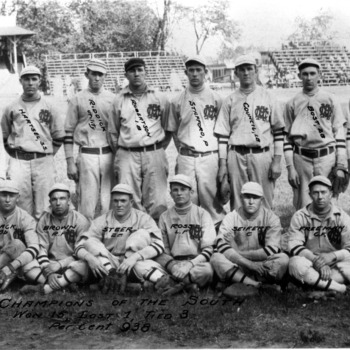 1910-1919
Bulldog mascot established for sports team
The football, basketball, and baseball teams had bulldog mascots named "Togo" and "Tige."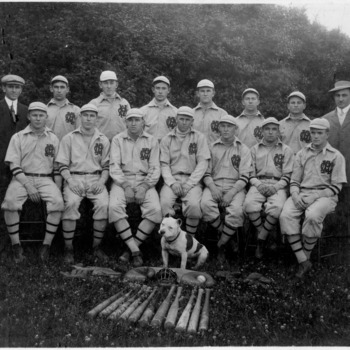 04/1911
Dave Robertson set strikeout record
Dave Robertson played on the football, basketball, and track teams. He was best known for baseball and set the school record in April 1911 for striking out 23 batters in one game. The record was not broken until 2009. He later played nine seasons in the National Baseball League from 1912 to 1922.
1912
Riddick Field named
Riddick Field (formerly A&M Athletics Field and later Riddick Stadium) was named for Wallace Carl Riddick, a former president of the college and dean of the School of Engineering. The field originally hosted football and baseball games.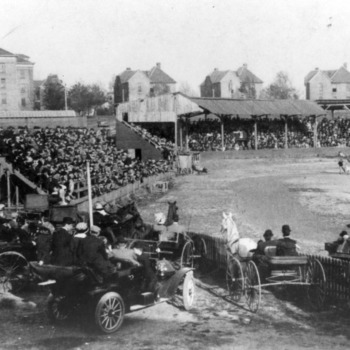 1912
Edward Greene, baseball head coach
1917
Harry Hartsell hired as Athletics General Manager
Harry Hartsell was hired as General Manager of Athletics and oversaw coaching of the basketball, football, track, and baseball teams.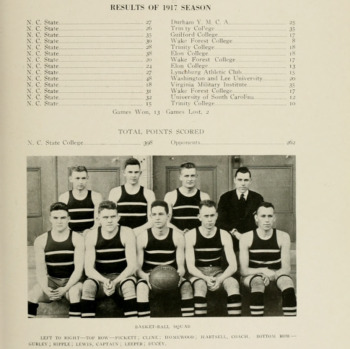 1920s
1920
W. McK. Fetzer, baseball head coach
1924-1939
Chick Doak, baseball head coach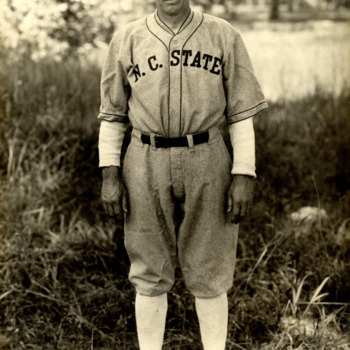 1927-1928
Jack McDowall named "Top Athlete"
McDowall played on the football, men's basketball, baseball, and track & field teams earning 11 varsity letters in the four sports. In 1927 and 1928, he won the Norris Athletic Trophy as NC State's top athlete. He held the school record for the longest punt return at 95 yards. He was considered NC State's top athlete of the first half-century of the college's athletics program. He was named to the North Carolina Sports Hall of Fame in 1965, the ... More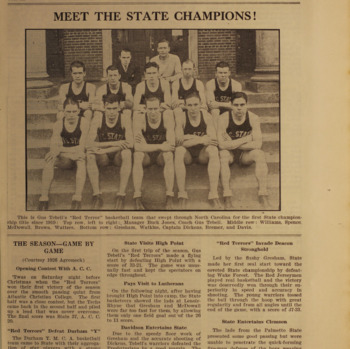 1929
First athletics radio broadcast began
Raleigh-area radio station WPTF began broadcasting State College baseball games.
1940s
1940-1944
Doc Newton, baseball head coach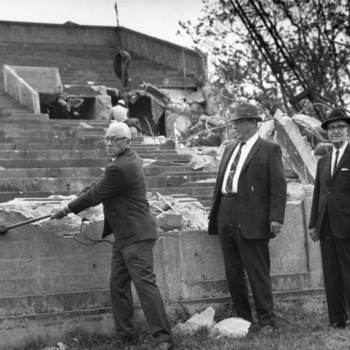 1945
Beattie Feathers, baseball head coach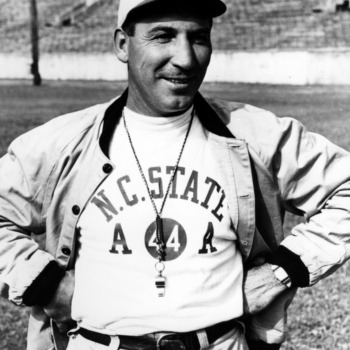 1946-1966
Victor Sorrell, baseball head coach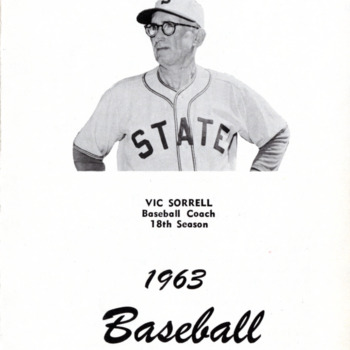 5/25/1946
Big Four baseball title won
State College won its first Big Four baseball title since 1928 with a 4-3 victory over Duke. The game was witnessed by 4,000 fans, which was the largest crowd to view a baseball game in Raleigh.
1950s
1952
Johnny Yvars named first All-American in baseball
Shortstop Johnny Yvars was named the first All-American baseball player in 1952 and 1954. He was also named "All-Southern Conference" and "All-ACC."
1953
Atlantic Coast Conference formed
NC State athletics teams withdrew from the Southern Conference and joined the newly formed Atlantic Coast Conference.
1960s
1966
Doak Field opened
Doak Field opened as the new facility for the baseball team.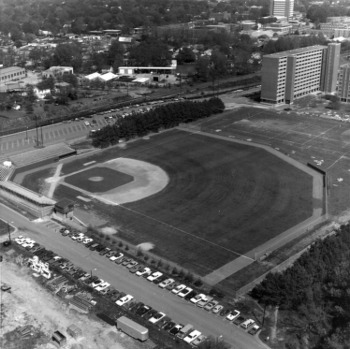 1967-1987
Sam Esposito, baseball head coach
Sam Esposito's served as head coach of the baseball team from 1967 to 1987. His career record was 513-253-4, and he was second in career victories at NC State. During this time, the team was 1968 ACC regular-season champions and three-time ACC Tournament Champions (1973-1975). He was ACC "Coach of the Year" in 1984 and 1986. He was inducted into the NC State Baseball Hall of Fame in 2009, the North Carolina Sports Hall of Fame in 2012, and the NC State Athletics Hall of Fame in 2014.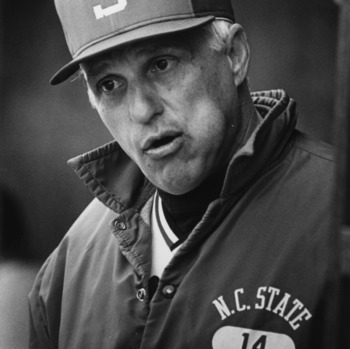 1968
Baseball team won ACC championship
The baseball team won the ACC championship and placed third in the College World Series.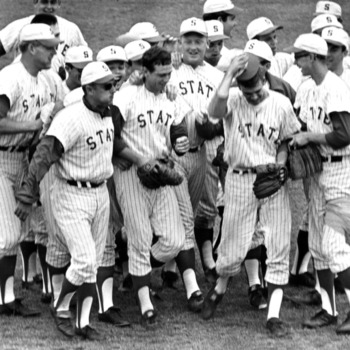 1968
Baseball player Mike Caldwell named "Top Athlete"
For his role in helping the Wolfpack finish third place in College World Series, baseball pitcher Mike Caldwell was named top freshman for the 1968 CWS team. During his time at NC State, he was named ACC's "Player of the Year" in 1971 and set conference records for shutouts and most complete games. After leaving the university, he had a major league career with the San Francisco Giants, San Diego Padres, Cincinnati Reds, and Milwaukee Brewers, and he ... More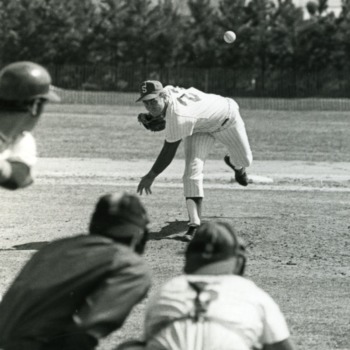 1980s
1983
Tim Stoddard won NCAA basketball title and World Series
Multi-sport athlete Tim Stoddard was a member of the 1974 national championship basketball team and later won the 1983 World Series, making him the only person to win both a NCAA basketball title and World Series ring.
1988–1996
Ray Tanner, baseball head coach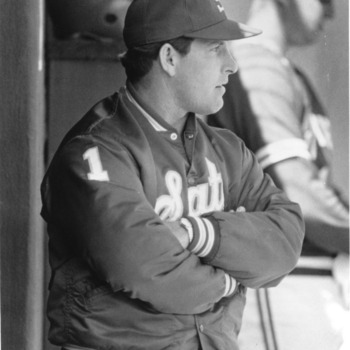 2010s
2013
Baseball team went to College World Series
The baseball team led by coach Elliott Avent and players Carlos Rodon and Trea Turner went to the College World Series for the first time in 45 years.
2020s
2021
Baseball team invited to College World Series
Wolfpack baseball was invited to play for its third appearance in the Division I CWS. The team was later withdrawn from the CWS due to COVID-19 restrictions.