Campus Buildings, Grounds & Landmarks
Campus Buildings, Grounds & Landmarks
1880s
7/1886
Headquarters for the North Carolina Agricultural Experiment Station dedicated
In July of 1886, there were elaborate ceremonies at the site, including speeches by prominent state officials, a procession of guests, and the laying of a cornerstone.
8/1888
Cornerstone laid for first building (Holladay Hall)
The cornerstone was laid for the first building on campus, originally called Main Building but later named Holladay Hall.
1889
Construction on Main Building (later Holladay Hall) completed
This building would later be renamed Holladay Hall, in recognition of the first President of the university, Alexander Holladay. The building was constructed of 1.5 million "penitentiary bricks" made at the State Prison in Raleigh.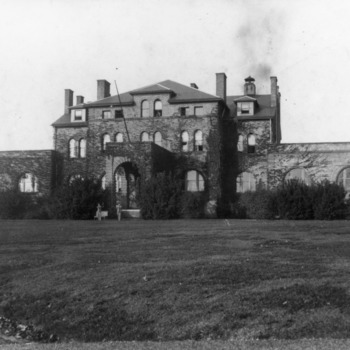 1889
D. H. Hill, Jr., First Librarian
Daniel Harvey Hill, Jr., the library namesake, began his career at North Carolina Agricultural and Mechanical College (now NCSU) upon its opening in 1889. He engaged in the common nineteenth-century practice of serving as both a professor (of English) and the college librarian, the institution's first. This responsibility was not a major burden, as the early library occupied only a reading room in the Main Building (later Holladay Hall). For the first ten years of ... More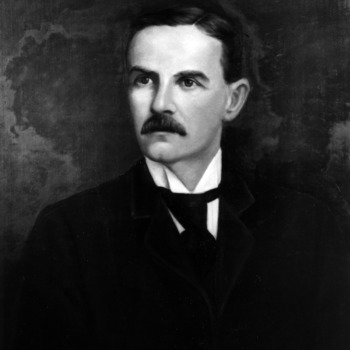 1890s
1890
Mechanical Building constructed
The Old Mechanical Building, designed by Professor J.H. Kinealy, housed the entire department of Mechanical Engineering including the shops.
1890
Memorial Oak planted
The first class of students planted the tree that became known at the Memorial Oak. The tree lived until 1990, when it was removed because of a fungal disease. It is depicted in the chancellor's seal, and some of the wood was made into a table for the chancellor's office.
1892
First Dairy Barn built
NC State's first dairy barn stood behind Holladay Hall. Several more were added in 1909, where Reynolds Coliseum now stands.
1893
Third Dormitory opens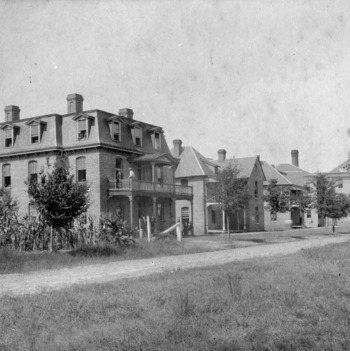 1893
First Dormitory opens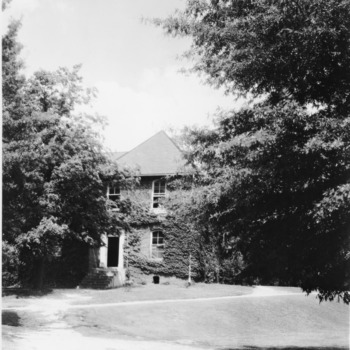 1893
Second Dormitory opens
1894
Fourth Dormitory opens
1896
First Power House built between Holladay and Leazar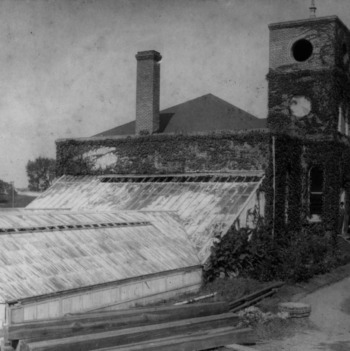 1896
Watauga Hall built
Watauga Hall, built by Charles W. Barrett, housed a dining hall, dorms, and kitchen. It was named for the Watauga Club, a club of young men who lobbied the State Legislature for the founding of State College.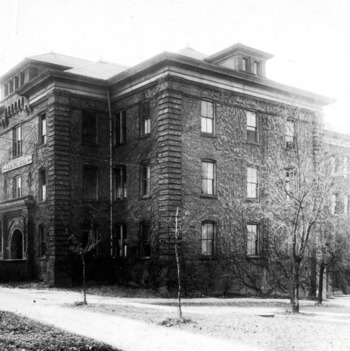 1900s
1902
Old Pullen Hall opens
Pullen Hall was built by William P. Rose with space for a library, dining hall, assembly hall, and chapel. It was named for Richard Stanhope Pullen.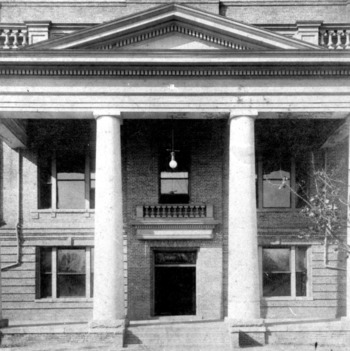 1902
Tompkins Hall opens
The original textile equipment was housed in the basement of Holladay Hall. Support for the program grew, and in 1901 the North Carolina General Assembly appropriated $10,000 toward the construction of a textile building. This structure, Tompkins Hall, resembled a textile mill of the period and was completed in early 1902. In 1917 it was named for Daniel A. Tompkins, a Charlotte industrialist who was instrumental in the establishment of the textile program at NC ... More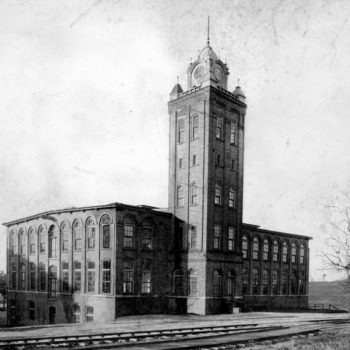 1902
Watauga Hall rebuilt after fire
1905
Patterson Hall (originally called "Agricultural Hall") opens
Patterson Hall, named for Samuel Ledgerwood Patterson, housed the Department of Horticulture, Aboriculture, and Botany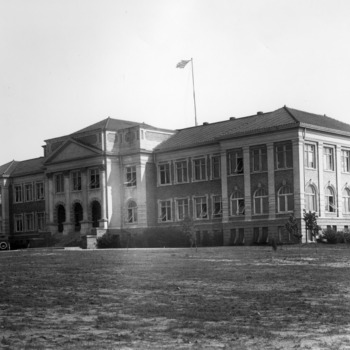 1905
Board of Trustees approved converting an area on campus called "Crawford's Farm" into an athletic field
Games were previously played at Red Diamond Field (now part of Pullen Park) or the Old State Fairgrounds (on the other side of Hillsborough St.)
1906
Field where ballgames are played is named the New Athletic Field
1907
New Athletic Field renamed A&M Athletics Field
1910s
1910
Winston Hall opens
Winston Hall opens, housing civil, chemical, and electrical engineering courses. It was named for second college president George Tayloe Winston.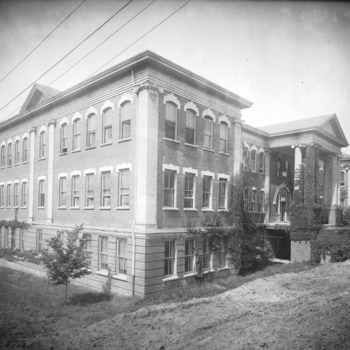 1911
Zoology Building (originally called "Animal Industry Building") constructed
The Zoology Building was constructed for Animal Industry, Zoology, and Entomology and demolished in the mid 1950s.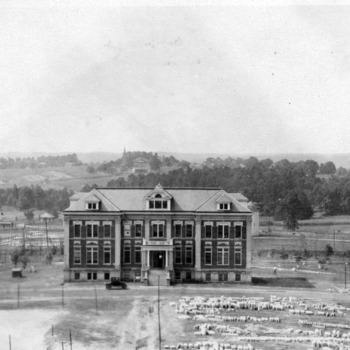 1911
1911 Building dedicated
Construction began on the 1911 Building (originally the 1911 Dormitory) in 1909. It was named for the class that banned freshman hazing. It has also housed the departments of Engineering Mechanics, Home Demonstration, Industrial Engineering, Rural Sociology, Veterans Administration, and Sociology and Anthropology.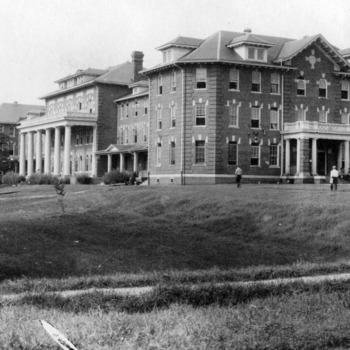 1912
Riddick Field (formerly A&M Athletics Field and later Riddick Stadium) named, for football and baseball
Riddick Field was named for Wallace Carl Riddick, a former president of the college and dean of the School of Engineering.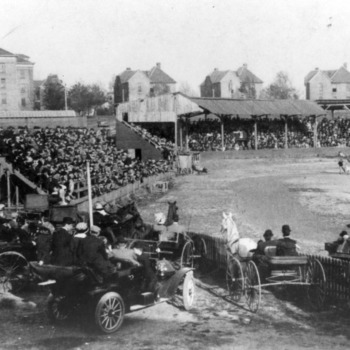 1912
Leazar Hall opens
Leazar Hall, named for Augustus Leazar, was built as the dining hall, seating 750 students.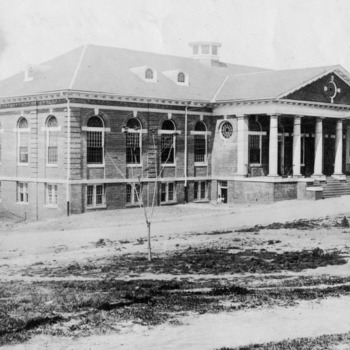 1913
King Religious Center (also called YMCA Building) opens
The King Religious Center served as a religious and social center, with a gym and pool in the basement. It served as a de facto student union before the first college union was built in the 1950s. The building was finally demolished in 1975.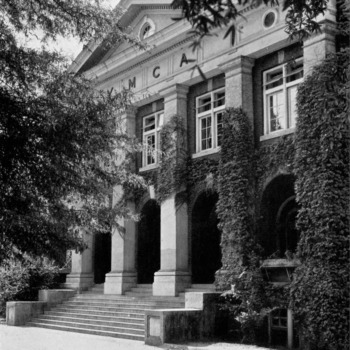 1913
"The Shacks" built
Due to increased student enrollment, ten temporary wooden buildings known as "The Shacks" were constructed.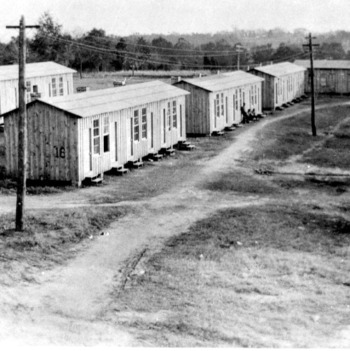 1914
Park Shops built
The Park Shops, built by Harry P.S. Keller, were originally built to house the mechanical shops, forge, and foundry.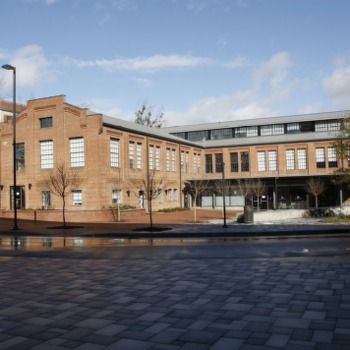 1914
Tompkins Hall rebuilt after fire
A fire on March 25, 1914 destroyed Tompkins Hall and all the equipment inside. It was rebuilt the following year, with the local textile industry contributing new equipment. During the rebuild, an additional 25 feet were added to the west end of the building.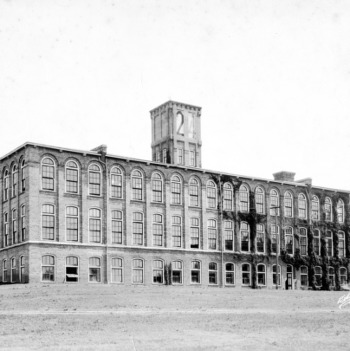 1916
South Dorm (now Syme Hall)
South Dorm (now the north wing of Syme Hall) opened. It was designed by architects Thomas W. Cooper and G. Murray Nelson.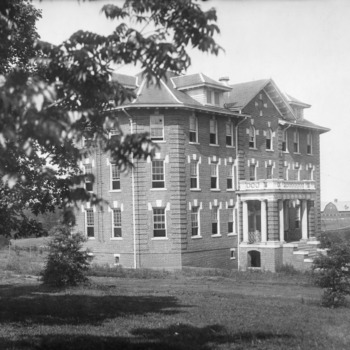 1930s
1930
Hill Forest donated to the college
Hill Forest was donated by George Watts Hill.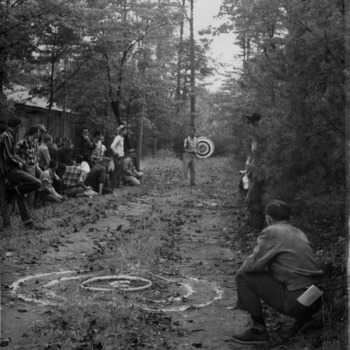 1930
First telephones in dormitories
The first telephones are installed in the dormitories. Previously, telephones were only available for student use in the YMCA building.
4/6/1933
Dairy barn fire
Fire destroys one of State College's dairy barns, with damages estimated at $4,000.
10/14/1933
Riddick Field Concrete Stands
State College ties the University of Florida, 0-0, in the first football game held at Riddick Field with its new concrete stands. The field was named for college president Wallace Carl Riddick.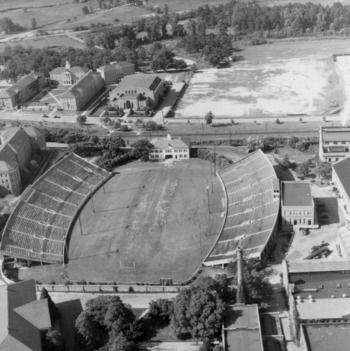 12/8/1933
Civil Works Administration projects
An announcement is made inviting students to be employed on Civil Works Administration projects to improve the campus.
1934
McLean Murals displayed in Brooks Hall (originally D.H. Hill Jr. Library)
The Works Progress Administration commissioned James A. McLean to create four murals depicting agriculture, science, architecture, and engineering. After complaints and ridicule, the murals were removed from display, three were destroyed, and one was rediscovered years later in the Raleigh Little Theater.
1935
Concrete grandstands completed at Riddick Field
The grandstands were completed with loans from the Reconstruction Finance Corporation and a small grant from the Works Progress Administration.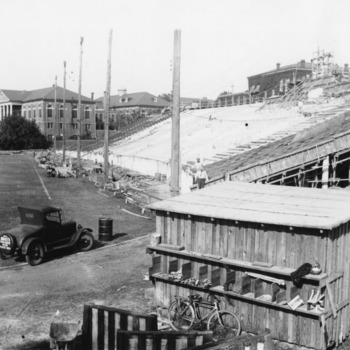 10/4/1935
Bell Tower grant
The Memorial Bell Tower construction project receives a $37,000 Works Progress Administration grant.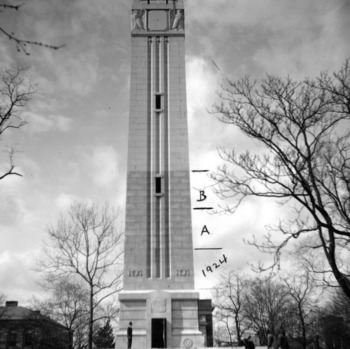 10/19/1935
Electronic scoreboard in Riddick Stadium
A new electric scoreboard and time clock are used at Riddick Stadium for the first time during a game against the University of Georgia. The scoreboard and clock were a donation from the News & Observer.
1/1936
Daughters of the American Revolution (DAR) Monument dedicated
The DAR Monument was erected to honor the men and women who achieved the independence of the thirteen original colonies.
1937
Memorial Bell Tower shaft completed
The shaft of the Memorial Bell Tower was completed with aid from the Works Progress Administration (WPA).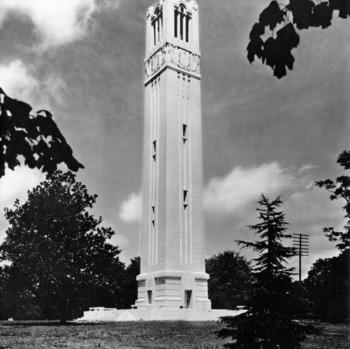 1938 (circa)
Bell moved to the roof of Withers Hall
The forgotten bell was rediscovered in 2006. It was originally on the top of Metropolitan Hall, in downtown Raleigh, then moved to a fire station on Morgan and Salisbury streets, and finally to Withers Hall. It signaled the end of classes and may have been intended to fill in the Memorial Bell Tower. In 2008, it was given back to the city of Raleigh.
1938
Freshman Quadrangle completed
The Seventh, Eighth, and Ninth Dormitories formed the Freshman Quadrangle.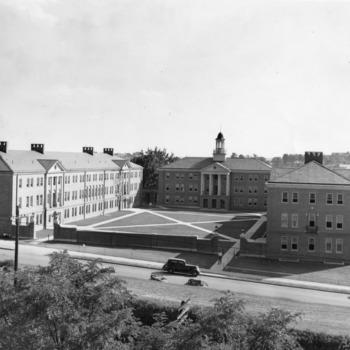 1/28/1938
Seniors donate $1,000 toward a clock for the Memorial Bell Tower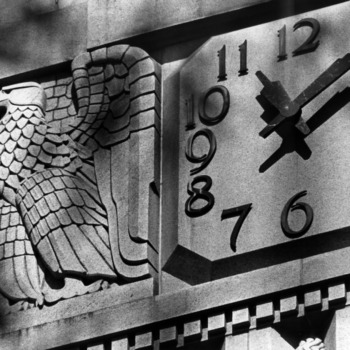 4/29/1938
Traffic congestion on campus
In response to traffic congestion on campus, Chancellor Harrelson appoints a committee of faculty members to study the traffic conditions at NC State.
12/8/1938
NYA Buildings
NC State and the National Youth Administration signed an agreement allowing the NYA to construct a training center on campus. A group of buildings was erected on a site later occupied by the east side of Miller Field and the Jordan Hall Addition. The college took control of these building in 1943 or 1944 and demolished them in 1959.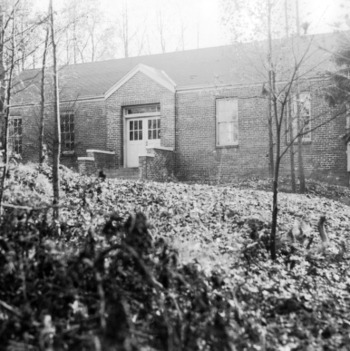 1939
Becton Hall opens
Becton Hall was designed by Hobart Brown Upjohn and Ross Edward Shumaker and named for alumnus John Leland Becton. It was financed by the Public Works Administration.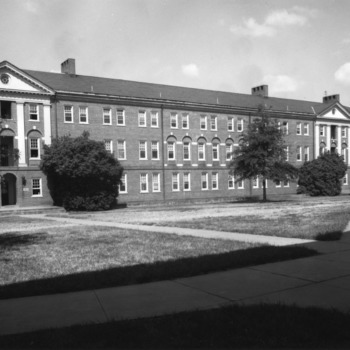 1939
Berry Hall opens
Berry Hall, a dormitory, was designed by Hobart Brown Upjohn and Ross Edward Shumaker. It was named for alumnus Leslie Graham Berry and was financed by the Public Works Administration.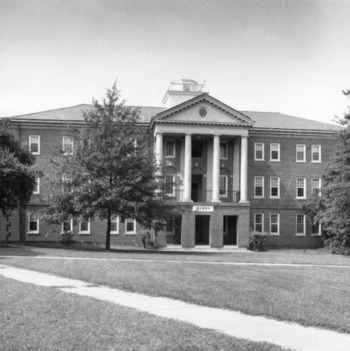 1939
Clark Infirmary (Clark Hall) opens
Clark Hall, originally a dormitory, became the center for Student Health Services. It was designed by Ross Edward Shumaker and named for Walter Clark, Jr., who sent five sons to North Carolina State College.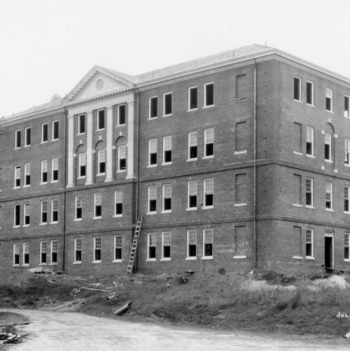 1939
Mangum Hall (now David Clark Laboratories) opens
David Clark Laboratories was built by Ross Edward Shumaker. It was renovated in 2005.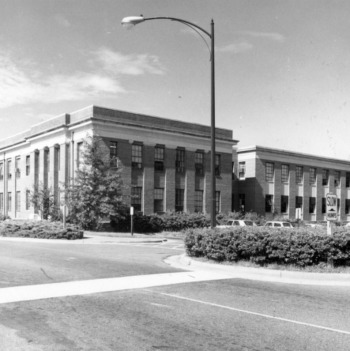 Circa 1939
New service underpass
A service underpass was created under the railroad tracks near Alexander and Turlington Halls. Construction was funded by the Public Works Administration. The underpass later became the Free Expression Tunnel.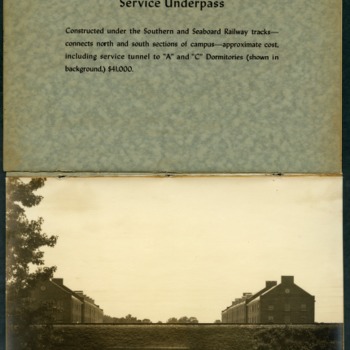 1980s
9/27/1980
N.C. State University Arboretum dedicated
The Arboretum, located on Beryl Road, was later renamed for Dr. J.C. Raulston, its founder and director.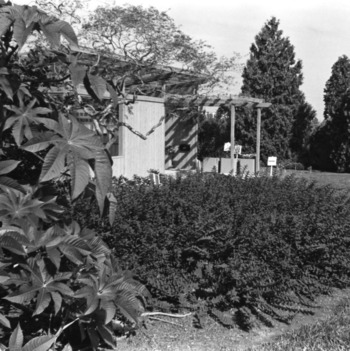 December 17, 1980
Bostian Hall dedicated
Bostian Hall, named for Chancellor Carey Hoyt Bostian, was built as an addition to Gardner Hall to house the biological sciences.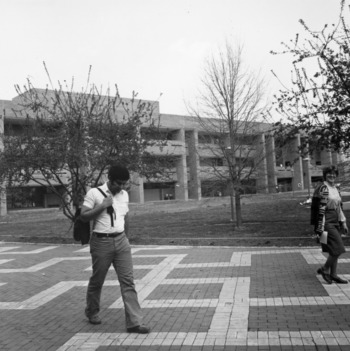 1981
Caldwell Hall opens
Caldwell Hall, named for Chancellor John T. Caldwell, was designed by Edward Larrabee Barnes in collaboration with J.N. Pease. It originally housed the Dean's Offices of Humanities, the Department of Political Science, and the Japan Center.
1981
Solar House dedicated
The Solar House showcases the solar and solar-efficient technologies of the NC Solar Center. It is intended for public education as well as scholarly research.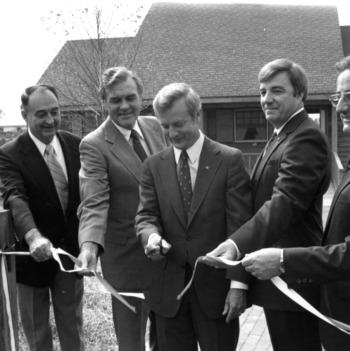 03/09/1981
Wells Auditorium dedicated
Wells Auditorium, inside Bostian Hall, was named for Bertram W. Wells, former head of the Botany Department.
03/09/1981
Harkema Auditorium dedicated
Harkema Auditorium, inside Bostian Hall, was named for Reinard Harkema, a professor in the Department of Zoology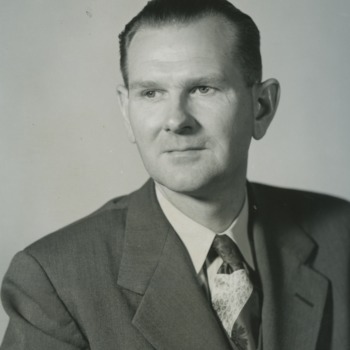 04/24/1981
L.R. Harrill Suite in Ricks Hall dedicated
The Harrill Suite was named for L.R. Harrill, the former director of the state 4-H organization. He was known as "Mr. 4-H."
10/02/1981
Stuckey Building dedicated
The Stuckey Building is the main building at the Minerals Research Laboratory in Asheville. It was named for Dr. Jasper Leonidas Stuckey, professor of Geology
1982
Weisiger-Brown Athletics Facility opens
10/11/1982
McLean Mural displayed in the Student Center
The original four murals, by artist James A. McLean for the Works Progress Administration, hung in Brooks Hall and were removed due to public outcry. Three were destroyed but one was rediscovered and formally installed in the Student Center in 1982.
1983
South Hall built
"New South Hall" (a dormitory) was later renamed Wood Hall for George M. Wood, an alumnus, legislator, member of the UNC Board of Governors, and chairman of the N.C. State Trustees
04/20/1983
School of Veterinary Medicine dedicated
The Dedication ceremony was attended by first dean Terrence M. Curtin, Governor James B. Hunt, Chancellor Bruce Poulton, and UNC System President William Friday.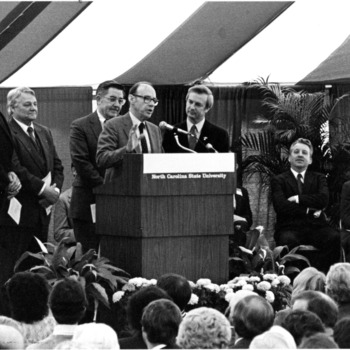 6/8/1983
Uncomfortable classrooms
The air conditioning system in Harrelson Hall breaks down, sending temperatures in some classrooms into the 90s.
1984
Carmichael Gymnasium Addition completed
This addition added 130,000 square feet with amenities such as an Olympic-size swimming pool, an indoor jogging track, and a dance studio.
12/19/1984
Centennial Campus established
North Carolina Governor (and NC State alumnus) James B. Hunt, Jr., alloted the initial 355-acre parcel of land for the university's Centennial Campus. The land had previously been part of the Dorothea Dix hospital.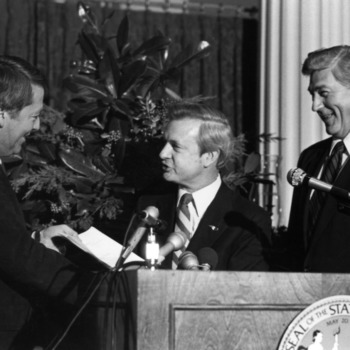 1985
Administrative Services Building built
The Administrative Services Building (now Administrative Services II) was built for the Finance and Business Division.
1985
Cunningham Center established
When Raymond P. Cunningham left his Kinston estate to NCSU, it became the Cunningham Center, now the Cunningham Research Station. In 1989, it was combined with the Lower Coastal Plain Tobacco Research Station.
5/2/1986
Strolling Professor statue dedicated
The "Strolling Professor," a bronze statue in Gardner Arboretum that depicts chemistry professor William R. Johnson, was dedicated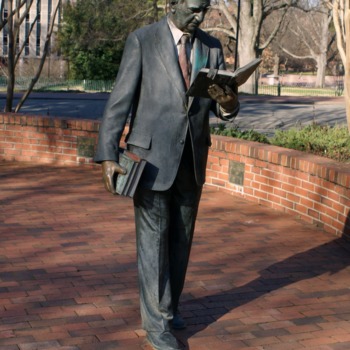 06/27/1986
Groundbreaking of Natural Resources Research Center
Construction begins on the Natural Resources Research Center, later renamed Jordan Hall in honor of R.B. Jordan, Jr., and his children. The Jordan family has a history of strong support for NC State University.
9/3/1986
Court of North Carolina dedicated
The Court of North Carolina was previously used as a cow pasture and later as the site of the Quonset Huts that served as housing for World War II veterans. Legend has it that planted within the Court were trees to represent each of North Carolina's 100 counties, but there is no evidence that was ever the case.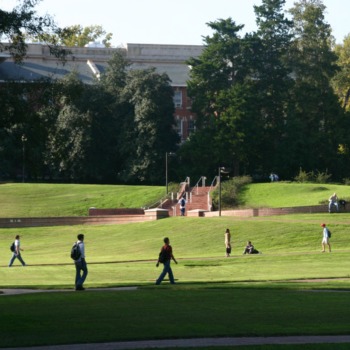 1987
Yarbrough Court dedicated
Yarbrough Court, the court surrounded by Holladay, Peele, Leazar, and Watauga Halls, is named after Mary E. Yarbrough, the first women to earn a graduate degree from NC State and one of the first three women to graduate from the university.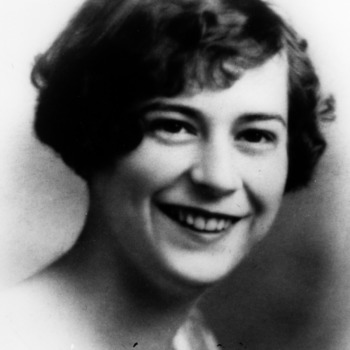 1987
First buildings on Centennial Campus constructed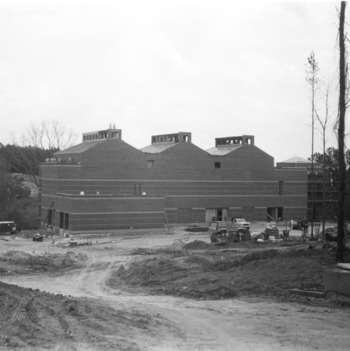 1987
Listening Vessels (Sound Sculpture) installed in the Brickyard
The Listening Vessels, sitting 90 feet apart, amplify sound such that people can talk into them at normal volumes and hear each other. It was created by sculptor Doug Hollis in honor of the University's participation in the 1987 Olympic Festival.
2/1988
First Permanent Building on Centennial Campus
The building that later was named Research I was first occupied.
5/1988
College of Textiles construction began
Ground was broken for the College of Textiles complex, an estimated $31 million.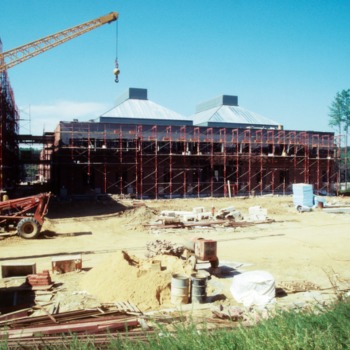 2000s
2000
Bonds for Higher Education
North Carolina voters approved the Higher Education Facilities Financing Act. NC State's portion of the bond package (more than $468 million) resulted in four dozen construction projects on campus, including new classrooms and laboratories, as well as major renovations of many older buildings.
Fall 2000
Centennial Magnet Middle School
After construction had begun in 1997, the Centennial Magnet Middle School opened in Aug. 2000.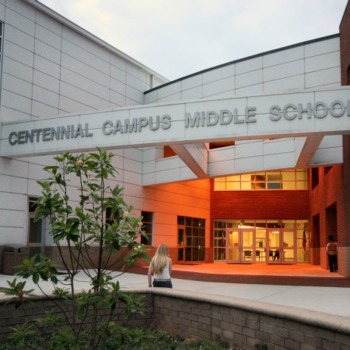 9/21/2000
Victory celebration
After an overtime football victory over Georgia Tech at Carter-Finley Stadium, NC State students tear down a goalpost and carry it down Hillsborough Street towards campus, making it as far the Waffle House; the goalpost costs $5,000 to replace.
12/2000
Spring Hill District
The state of North Carolina transferred Spring Hill House (ca. 1820) and approximately 130 acres from Dorothea Dix Hospital to North Carolina State University. In February 2001 the Board of Trustees approved the addition of the Spring Hill District (or Precinct) to Centennial Campus. The Japan Center moved into Spring Hill House in June 2001.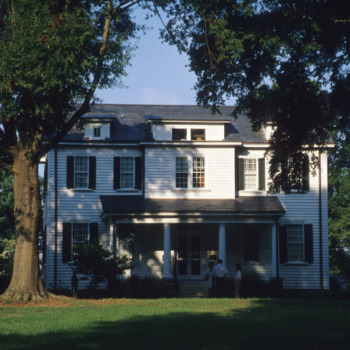 2001
Toxicology Building Opened on Centennial Campus
2002
Hill of Beans coffee bar
The Hill of Beans coffee bar opened in the D. H. Hill Jr. Library.
2002
Varsity Research Building opens
Originally known as the Flex Building, the Varsity Research Building served as swing space during a ten year construction campaign. It now houses various research units.
2003
Wendell H. Murphy Football Center opens
Wendell Murphy, an alumnus, is a philanthropist and member of the Alexander Quarles Holladay Lifetime Giving Society.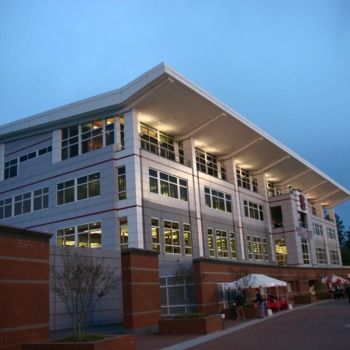 2004
Fox Science Teaching Laboratory opens
The Fox Science Teaching Laboratory opens, making new undergraduate chemistry lab facilities to students.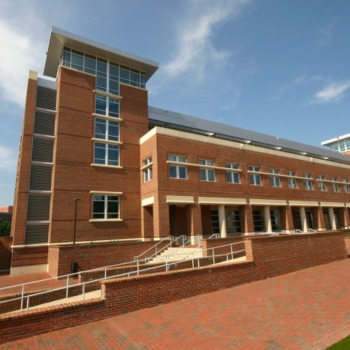 2004
J.W. Isenhour tennis facility opens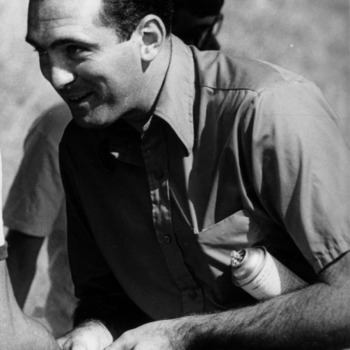 2004
Partners Building III completed
2004
Engineering Building I completed
This building was funded through the Bonds for Education program.
2004
Wolf Village opens
Wolf Village Housing Complex provides housing for upperclassmen on campus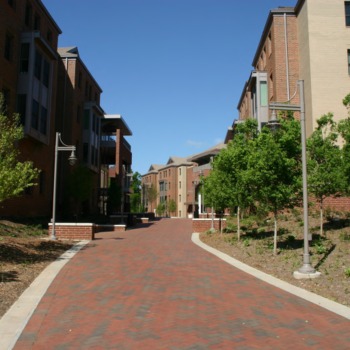 September 17, 2004
Joyner Visitor Center dedicated
The Joyner Visitor Center was named for E. Carroll Joyner, an alumnus and honorary degree recipient. He also received the Watauga medal and was director of the NC State Foundation. The center was founded for prospective students and their families, as well as other visitors.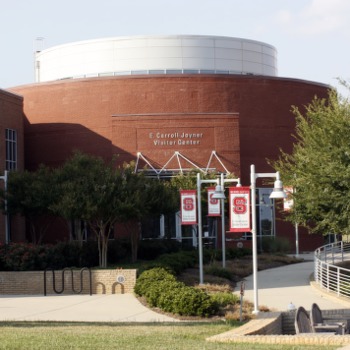 2005
Monteith Engineering Research Center renamed
The Engineering Graduate Research Center was renamed after Larry Monteith, chancellor of NC State from 1989 to 1998.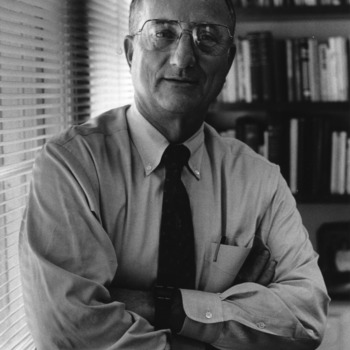 2005
Engineering Building II completed
This building was funded through the Bonds for Education program.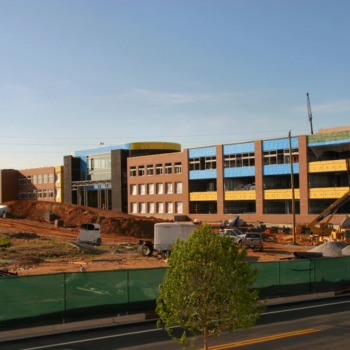 2005
College of Veterinary Medicine Research Building opens
11/2005
William and Ida Friday Institute for Educational Innovation
After being established in 2003, the Friday Institute moved into its new facility in Nov. 2005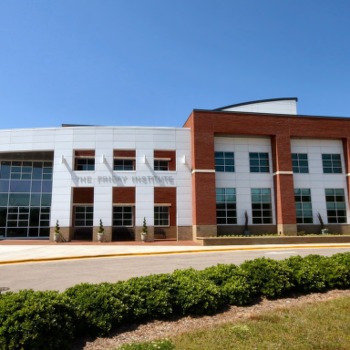 2006
Block S changes on the Brickyard
The Block S on the Brickyard was changed to include the "N" and "C." Previously it has just had the letter "S," which caused Chancellor Oblinger to say "it looks like this is Stanford."
9/2006
Park Alumni Center
The Dorothy and Roy Park Alumni Center opened on the southern shore of Lake Raleigh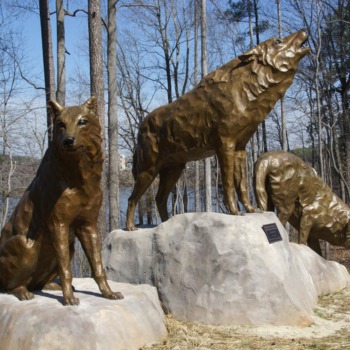 2007
Funding for new Centennial Campus library
The North Carolina General Assembly appropriates funding for the planning of the new James B. Hunt Jr. Library, to be built on Centennial Campus.
2007
Centennial Biomedical Campus groundbreaking
Anchored by the College of Veterinary Medicine, the CBC is located on the corner of Hillsborough Street and Blue Ridge Road. It is home to the Randall B. Terry, Jr. Companion Animal Veterinary Medical Center, more than 60 corporate and government partners, and 73 academic units.
2007
Jordan Hall addition
The addition significantly increased the amount of office and classroom space for the College of Natural Resources.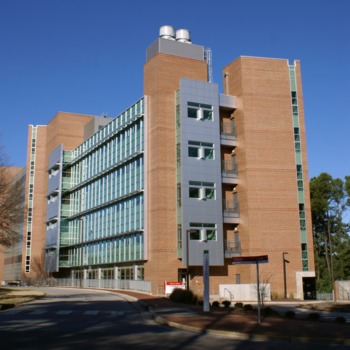 3/12/2007
East Wing renovation
A major renovation of the east wing of the D. H. Hill Jr. Library was completed, featuring the Learning Commons, the Conservatory, the Special Collections Reading Room, and the Exhibit Gallery. The opening of the newly refurbished space coincided with the fifty-second anniversary of the dedication of the original building in 1955.
9/19/2007
BTEC established
The Golden LEAF Biomanufacturing Training and Education Center (BTEC) was established on Centennial Campus. The facility allows for simulation of biopharmaceutical products and packaging in a sterile environment.
11/5/2008
Racist graffiti directed at Obama
Racist and threatening graffiti, directed at (then) President-elect Barack Obama, was found in the Free Expression Tunnel. Because of the threats, the Secret Service was among those called to investigate. The four students responsible were identified and admitted to the act. The students issued an anonymous public apology. In response to the incident, which received international media attention, Chancellor Oblinger established the Campus Culture Task Force ... More
2009
SAS Hall dedicated
SAS Hall is dedicated as the new home of the Departments of Mathematics and Statistics. The 119,000 square-foot building houses state-of-the-art classrooms, computer labs, tutorial centers and meeting and study space for students and faculty.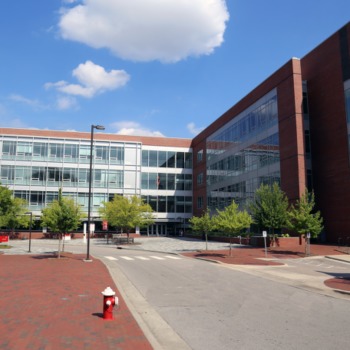 2009
Keystone Science Center built
The Center, originally called the Centennial Science Center, houses the FREEDM Center, as well as office and lab space. It is on Centennial Campus.
7/31/2009
Lonnie Poole Golf Course opened
Poole was founder of Waste Industries USA, and he contributed $3 million to the project.
2010s
2010
Construction begins on the New Chancellor's Residence
College of Design Dean Marvin Malecha leads the design effort.
2010
Wolf Sculptures unveiled in Wolf Plaza
The trio of bronze wolf sculptures were created by artist Michael Stutz.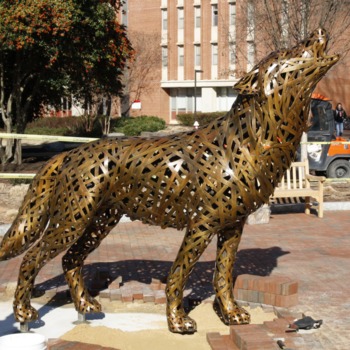 2010
Terry Companion Veterinary Medical Center opens
9/15/2010
Engineering Building III dedicated
This building was built with 80 labs and 2 wind tunnels, and it had the first green roof on Centennial Campus.
2011
The Point completed
The new chancellor's residence replaced the one on Hillsborough Street, which then became the Gregg Museum.
04/2011
Innovation Cafe opens
The Innovation Cafe provides Engineering and Textiles students with a new eating option.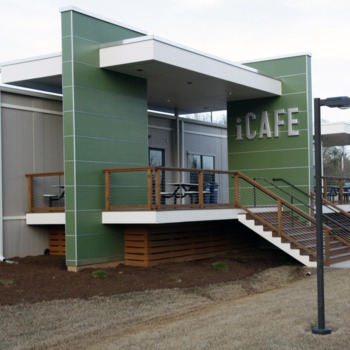 2012
Greek Village reopens
Greek Village reopened with the newly constructed Kappa Delta house. Redevelopment of Greek Village had begun in 2008 when the aging buildings began to be demolished.
April 2013
Gregg Museum moves
The Gregg Museum of Art & Design temporarily moves off-campus to Brickhaven, near the Raulston Arboretum, while the Old Chancellor's Residence space is prepared for it.
4/3/2013
James B. Hunt Jr. Library dedication
The library was named in honor of former four-term N.C. Governor and NC State alumnus James B. Hunt Jr. Also housed in the building is the Institute for Emerging Issues.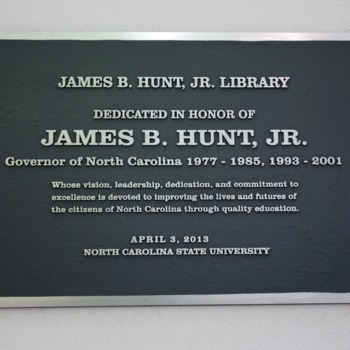 4/19/2013
Research Building I renamed Poulton Innovation Center
Research Building I was renamed after Bruce Poulton, 10th chancellor of NC State (1982-1989). The university had acquired Centennial Campus during his term in office.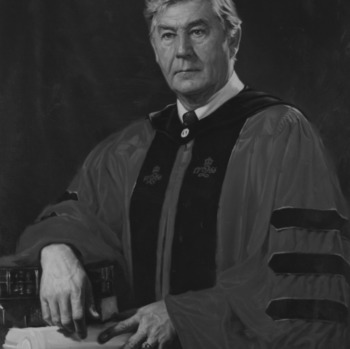 8/19/2013
Wolf Ridge Apartments
The six-building complex was built to accommodate approximately 1,200 graduate and upper-division students, and it was the first LEED-certified residence hall at the university.
10/23/2013
New Talley Student Union, Phase I opened
With the new construction and remodeling, Phase I of the new Talley Student Union opened with four new dining options and the Talley Market.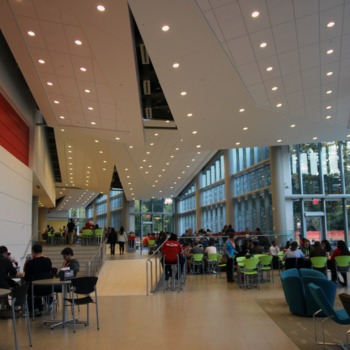 2013
AIA/ALA Library Building Award
Immediately after dedication, the James B. Hunt Jr. Library won the American Institute of Architects and the American Library Association Building Award. It later garnered many additional prestigious awards and was featured in Architecture magazine. Time magazine called it the "library of the future."
2014
Award Winning Hunt Library
The Hunt Library won the ALA Library Interior Design Award and the AIA Education Facility Design Award.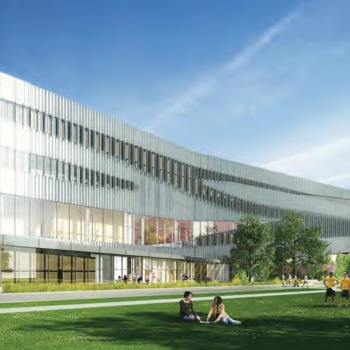 2014
The Greens apartment community opened
2014
North Shore expansion
New development began in the North Shore condominium community.
May 2015
Talley Student Center renovation completed
The renovated space provides office for the Office for Institutional Equity and Diversity, the Division of Academic and Student Affairs, Multicultural Student Affairs, Greek Life, and the University Graduate Student Association.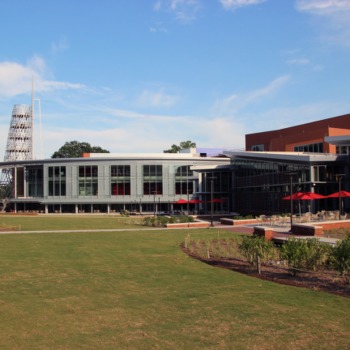 Summer 2016
Harrelson Hall demolished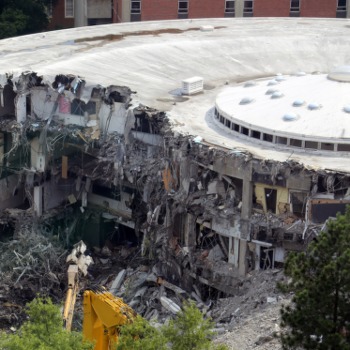 8/26/2017
Gregg Museum reopens
The museum reopened in the former chancellor's residence, which included a significant addition to the building.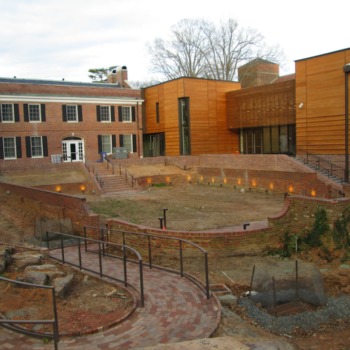 10/11/2017
StateView Hotel opened
The hotel opened with 90 king-sized rooms, 70 double-double rooms, 3 suites, a bar, a full-service restaurant, and eight meeting rooms.
2020s
2020
Renovation to Carmichael Gymnasium Completed
The Wellness and Recreation Center opened in Carmichael Gymnasium after a five year renovation.
2020
Fitts-Woolard Hall opens
Fitts-Woolard Hall is NC State's 225,000-square-foot engineering innovation building. Fitts-Woolard Hall brings the College of Engineering together on Centennial Campus by serving as the home for the dean's administration; the Department of Civil, Construction, and Environmental Engineering; and the Edward P. Fitts Department of Industrial and System Engineering.