1910s
5/26/1913
Franklin D. Roosevelt gives commencement address
Franklin Delano Roosevelt, then assistant Secretary of the Navy, spoke at commencement exercises. He implored young men to "stay East" because the western expansion of the nation meant abandoned farms in the east.
1920s
5/17/1922
Evolution debate
Entomology professor Zeno P. Metcalf debates Bible Conference leader William B. Riley on the topic "Resolved: That Evolution is a Demonstrated Fact" in the old Pullen Hall.
11/21/1925
Agriculture Club social event
The Agriculture Club of State College hosts a "Barn-warming" for visiting farmers at Thompson Gym.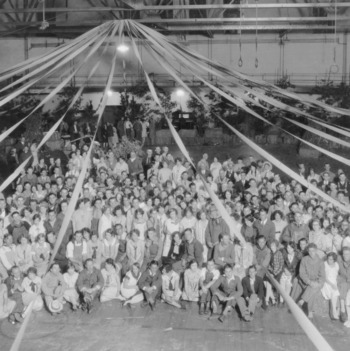 1930s
10/25/1932
Franklin Delano Roosevelt visits
Presidential candidate Franklin Delano Roosevelt makes a campaign stop in Raleigh; State College suspends classes for the day so that students may attend the speech, with the band performing at the event.
5/16/1938
Jimmy Dorsey visits
Jimmy Dorsey's orchestra performs at a dance sponsored by the Interfraternity Council.
11/11/1938
Chinese delegates visit
Chinese delegates address State College students and Raleigh citizens in an event sponsored by the YMCA and YWCA.
11/17/1939
First annual High School Day
The first annual High School Day brings approximately 6,000 seniors to visit NC State's campus; many stay to attend the State-Duquesne football game, as well.
1940s
4/24/1942
Famous hypnotist Dr. Polgar visits
8/1947
General Eisenhower visits during Home and Farm Week
In his remarks at the event Eisenhower celebrated North Carolina history and agriculture and suggested that the United States could be a global leader in the aftermath of World War II.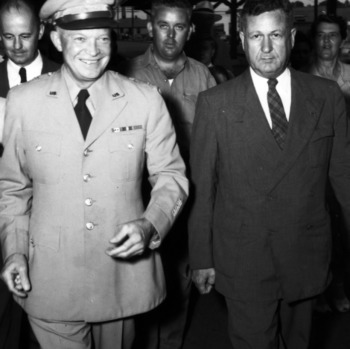 10/19/1948
President Truman visit
President Truman reviewed techniques of State College ROTC cadets during a parade. Crowds gathered on Hillsborough Street to see the president pass by.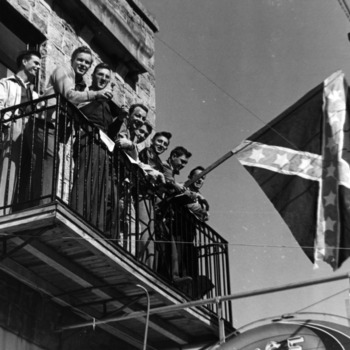 11/11/1949
Dedication of the Memorial Bell Tower
The Memorial Bell Tower is dedicated, with former Governor R. Gregg Cherry present at the ceremony.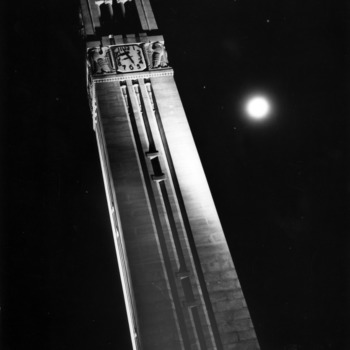 1950s
10/10/1950
UNC System presidential inauguration
In a ceremony at NC State, Gordon Gray is inaugurated as the second president of the UNC System; the new president vows to not tolerate Communism among faculty members.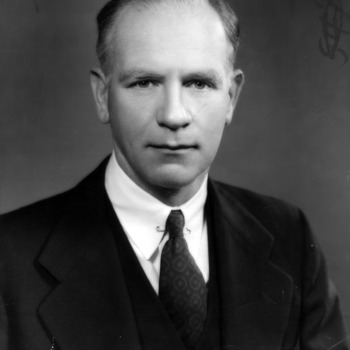 4/1/1953
World Series of Basketball
A game in the 4th annual World Series of Basketball, featuring the 1953 All-Americans versus the Harlem Globetrotters, is played in Reynolds Coliseum.
5/22/1953
Raleigh-Durham TV Fair
The first Raleigh-Durham TV Fair concludes at Reynolds Coliseum. Stars appearing at the fair included Homer and Jethro of the Breakfast Club and Mrs. Hank Williams.
2/13/1957
Louis Armstrong visits
Jazz pioneer Louis Armstrong performs at Reynolds Coliseum.
3/4/1958
Ogden Nash visits
Ogden Nash lectures in the ballroom of the College Union Building as part of the Fine Arts Festival.
1960s
9/17/1960
John F. Kennedy visits
Democratic presidential candidate John F. Kennedy appears in Reynolds Coliseum before a crowd estimated at 8,000 persons. Kennedy sharply criticizes Vice President Nixon in his dealings with Khrushchev.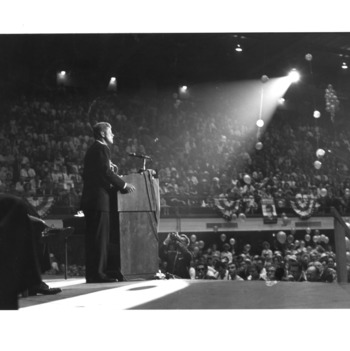 10/21/1960
Kingston Trio performs
The Kingston Trio performs at Reynolds Coliseum.
10/26/1960
John Dos Passos visits
Novelist John Dos Passos, author of Manhattan Transfer and the U.S.A. trilogy, gives a lecture at the College Union.
11/16/1960
Lawrence Ferlinghetti visits
Lawrence Ferlinghetti, a noted poet associated with the Beat Generation, gives a lecture at the College Union.
3/7/1962
Adlai Stevenson visits
Adlai Stevenson, U.S. Ambassador to the United Nations, delivers the first annual Harrelson Lecture at Reynolds Coliseum.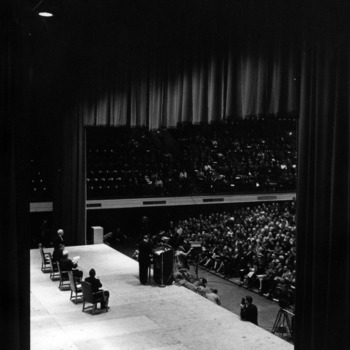 12/10/1962
Unpopularity of potential name change
Governor Sanford gets booed after an NC State-Wake Forest basketball game in Reynolds Coliseum by students protesting the possible name change of the University from North Carolina State College to the University of North Carolina at Raleigh.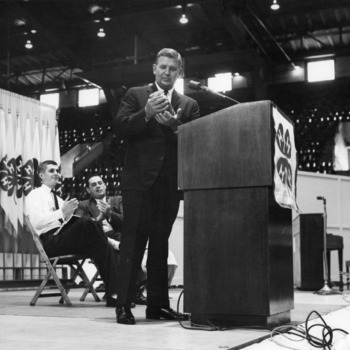 3/30/1963
Lady Bird Johnson visits
Lady Bird Johnson, wife of Vice President Lyndon Johnson, visits the School of Agriculture.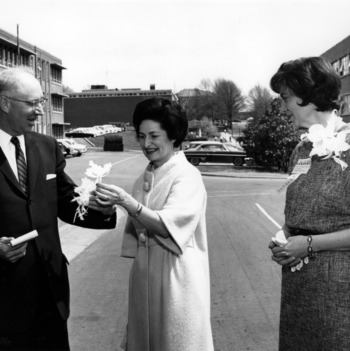 6/25/1963
Speaker Ban Bill passes
The Speaker Ban Bill passes through the NC House, prohibiting anyone with "known Communist ties" from speaking on any state-supported campus, including NC State.
9/26/1963
National Association of State Departments meeting
The National Association of State Departments of Agriculture hold a meeting at the Faculty Recreation Center. Members came from all over the U.S. and discussion ranged from hula girls to cheese.
10/10/1963
Stan Getz performs
Jazz saxophonist Stan Getz performs at Reynolds Coliseum.
10/6/1964
President Lyndon Johnson campaign speech
President Lyndon Johnson made a campaign speech before an audience of 13,000 people in Reynolds Coliseum. The president warned that a victory for opponent Barry Goldwater would mean cuts in farm programs.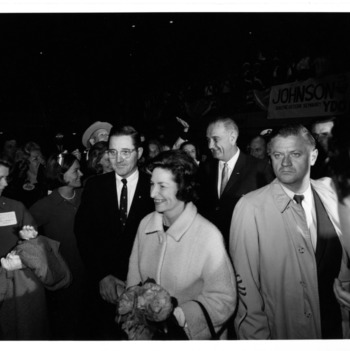 10/6/1964
"Lady Bird Special" Whistle-stop Tour
President Lyndon Johnson and Lady Bird Johnson are accompanied by UNC System President William Friday at a Democratic presidential campaign rally held in Reynolds Coliseum. More than 14,000 attend the rally, with hundreds more outside. The rally was part of Mrs. Johnson's whistle-stop tour through the South on the "Lady Bird Special."
10/11/1964
London Symphony Performed
The London Symphony performed on campus as a part of the Friends of the College concert series. The orchestra received a standing ovation after their performance, playing music from Stravinsky, Vaughn, Mozart, and Brahms.
11/10/1965
Rolling Stones perform
The Rolling Stones perform at Reynolds Coliseum. The Stones are joined by Patti LaBelle for the show.
3/2/1966
Martin Niemoller visits
Martin Niemoller, a German Lutheran pastor who was imprisoned in a concentration camp for his anti-Nazi views, gives a speech at Erdahl-Cloyd Student Union. Niemoller is perhaps best knows as the author of the poem "First they came..."
4/1/1966
Bob Hope performs
Comedian Bob Hope performs at Reynolds Coliseum.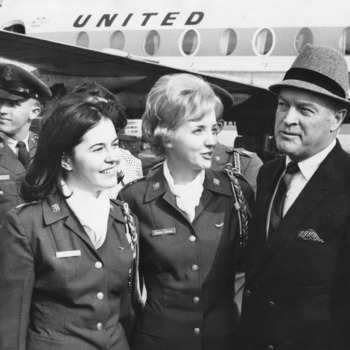 11/15/1967
Brigade of Guards perform
Two units of Queen Elizabeth II's Brigade of Guards (the Band of the Welsh Guards and the pipes, drums, and dancers of the Scots Guards) join forces for a "pageant" of music, marching, and dancing at Reynolds Coliseum.
11/9/1968
Folksinger Bob Godfrey performs
11/7/1969
5th Dimension performance
The 5th Dimension perform at Reynolds Coliseum.
1970s
10/7/1971
Ralph Nader visits
Ralph Nader addressed over 800 people about the formation of a North Carolina Research Group (NC-PIRG) in the Union Ballroom.
3/24/1972
Vienna Symphony performance
The Vienna Symphony perform in Reynolds Coliseum.
8/30/1972
David Frye visits
Comedian David Frye puts on a show at the Student Center Theatre.
10/6/1972
Cleveland Orchestra performance
The Cleveland Orchestra opens up the Friends of the College program at the Reynolds Colliseum with a performance in front of 21,000 people.
10/20/1973
Lili Kraus performance
Hungarian pianist Lili Kraus performs on campus.
2/18/1974
Uri Geller visits
Famed Israeli psychic Uri Geller puts on a show at the Stewart Theatre, bending keys with his mind.
11/20/1974
George Faison Universal Dance Experience visits
Stewart Theatre hosts the George Faison Universal Dance Experience.
1/26/1977
Leonard Nimoy visits
Leonard Nimoy, famous for his role as Mr. Spock on the television show "Star Trek," speaks at Stewart Theatre.
1/30/1978
Mike Cross performs
Mike Cross performs to a sold-out crowd at the Stewart Theatre, and gives a 20 minute encore.
1980s
9/20/1980
Elton John performance
Singer Elton John performs at Reynolds Coliseum.
3/23/1981
Mel Blanc visits
Mel Blanc, legendary voice of cartoon characters such as Bugs Bunny and Porky Pig, gives a lecture at Stewart Theatre.
6/25/1985
Missed interview
Technician entertainment writer Lee Johnson is unable to interview rock band Hüsker Dü following their show at The Brewery because his tape recorder was damaged during the show.
9/5/1985
President Ronald Reagan visits
President Reagan promoted tax reform during a speech in Reynolds Coliseum. Afterwards the president met with students, and Student Body President Jay Everette gained notoriety when he asked reporters to respect the students' time with the president.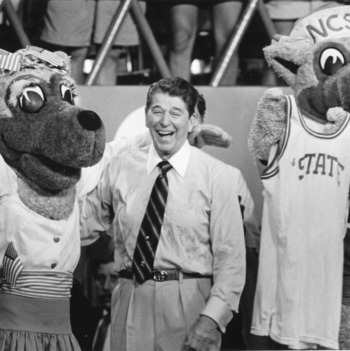 1990s
2/2/1990
President George Bush visit
President Bush toured three physics labs that focused on semiconductor and microelectronics research and joined a roundtable discussion on international competitiveness in high-tech industries.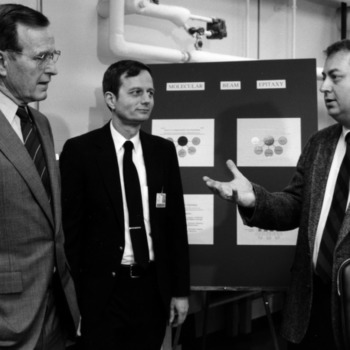 2/1991
President Jimmy Carter attends Emerging Issues Forum
Before a crowd of 1,300 people, the former president raised questions about the United States handling of Iraq's invasion of Kuwait in 1990, and he called for the U.S. and Soviet Union to organize an international peace conference to resolve the conflict between Israel and the Palestinians.
10/5/1992
President Bill Clinton visits
Presidential candidate Bill Clinton addressed 600 people in Stewart Theatre. He announced his support for the North American Free Trade Agreement (NAFTA).
2000s
2003
Yolanda King speaks on campus
Yolanda King, Martin Luther King, Jr.'s daughter, addressed students in Stewart Theatre as part of the NCSU MLK Commemoration. King urged a crowd of more than 500 to shake off apathy and tackle social problems such as poverty, hunger and intolerance.
5/6/2008
Candidate Barack Obama visit
Presidential candidate Barack Obama appeared before a crowd at Reynolds Coliseum shortly after defeating rivals in the Democratic presidential primaries.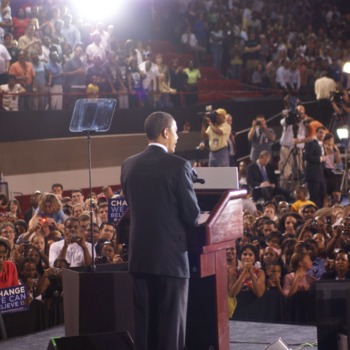 1/26/2009
President Bill Clinton at Millennium Seminar Series
Former President Bill Clinton addressed 6,000 people, stating that the world would best find its way to peace and prosperity through "communitarianism."
2010s
9/14/2011
President Obama at rally
President Barack Obama spoke before an audience in Reynolds Coliseum. During the speech he promoted the American Jobs Act.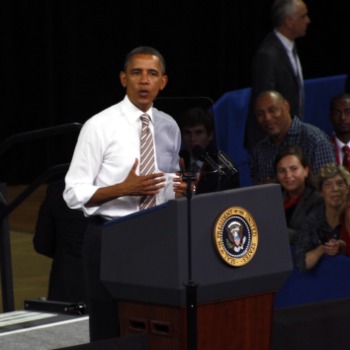 01/15/2014
President Barack Obama visits
President Obama announces the establishment of the Next Generation Power Electronics Innovation Institute, based at NC State, with $140 million in federal funding including $70 million from the Department of Energy.
7/1/2015
Rolling Stones return
The rock group performed at Carter-Finley Stadium, fifty years after they performed in Raleigh the first time.