Centennial Campus
This timeline was originally created by Paige Meszaros in 2004 for the Centennial Campus 20th Anniversary. It has been subsequently updated by NCSU Libraries staff.
1970s
1970s
NCSU research centers
NCSU developed research centers (precursors to Centennial Campus project) to encourage government and private funding for university.
1980s
1984
Governor James B. Hunt gave series of speeches
Governor James B. Hunt gave a series of speeches about the importance of state funding for biotechnology, microelectronics, and a school of textiles for NC State.
12/19/1984
Centennial Campus established
North Carolina Governor (and NC State alumnus) James B. Hunt Jr. alloted the initial 355-acre parcel of land for the university's Centennial Campus. The land was previously part of the Dorothea Dix hospital.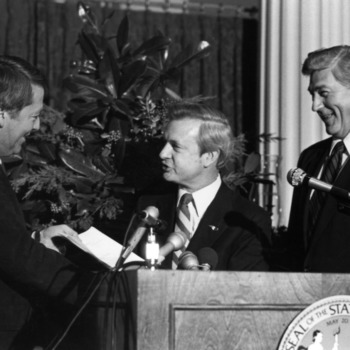 2/1985
450 acres allocated
An additional 450 acres was allocated from the State Farm Operations Commission by Governor Jim Martin's administration.
7/1985
Request approved for Master Plan
UNC Board of Governors approved the request of NCSU Board of Trustees for permission to hire a firm to develop a Master Plan for the new property.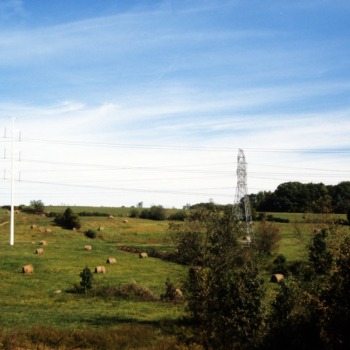 9/1985
Carley Capital Group selected
NCSU Board of Trustees selected Carley Capital Group as the Master Planner/Development Adviser to project.
1986
AURRP charter
NCSU helped charter the Association of University Related Research Parks (AURRP).
12/1986
1.4 acre lot purchased
A 1.4 acre lot (formerly site of H.B. Harris house) was purchased by NCSU Endowment Board of Trustees for Centennial Campus.
1/1987
Research I Building
After a site had been selected in Nov. 1986, ground-breaking began the following Jan.
1/1987
Land Use Master Plan approved
UNC Board of Governors approved Land Use Master Plan.
1987
College of Textiles vote against move
Faculty and administration of the College of Textiles voted unanimously against moving to Centennial Campus.
4/1987
2.5 acres of land purchased
The NCSU Endowment Board of Trustees purchased a 2.5 acre parcel of land from UNC-Greensboro.
5/1987
118.9 acres reallocated
Land totaling 118.9 acres was exchanged with the North Carolina Department of Agriculture and reallocated by the Council of State.
6/1987
Formal review of Master Plan
The Governor and Council of State conducted a formal review of the Master Plan for the Centennial Campus. Both parties unanimously approved and adopted the plan.
1988
Additional 75 acres purchased
An additional 75 acres was purchased by the NCSU Endowment fund from the Catholic Diocese of Raleigh for $7.5 million (other small purchases and land trades eventually raise total to 1,000 acres).
4/1988
First Permanent Centennial Campus building
In Feb. staff first occupied the Precision Engineering Center in Research I, the first Centennial Campus building, In Apr. the building was dedicated.
6/1988
Engineering Graduate Research Center
After a site had been selected in Apr., the design contract and document for the Center was then approved in June.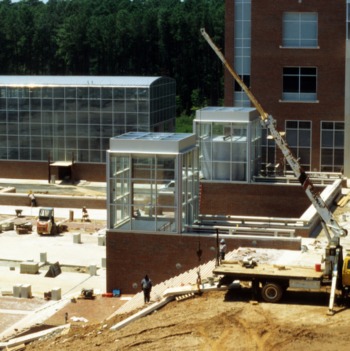 7/1988
Claude E. McKinney
Claude E. McKinney left his post as Dean of the School of Design at NCSU and became the Special Assistant to the Chancellor for the Development of Centennial Campus.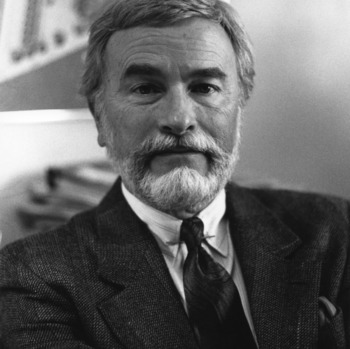 8-9/1988
Phase 1 Master Plan and Open Space Recreation Plan
The Raleigh City Council and N.C. Council of State rezoned Centennial Campus as a "mixed-use thoroughfare district."
10/1988
75 acres purchased
NCSU Endowment Board of Trustees purchased 75 acres of land from the Catholic Diocese of Raleigh.
12/1988
2.1 acres purchased
The NCSU Endowment Board of Trustees purchased 2.1 acres of land from Eastman Development.
4/1989
Centennial Campus Management Team dissolved
The Centennial Campus Management team was dissolved as the project grew.
2000s
08/2000
Centennial Magnet Middle School opened
After construction began in 1997, the Centennial Magnet Middle School opened in August 2000.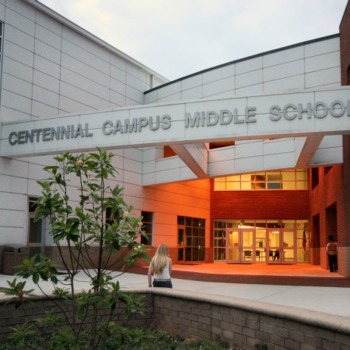 12/2000
Spring Hill District transferred
The state of North Carolina transferred Spring Hill House (ca. 1820) and approximately 130 acres from Dorothea Dix Hospital to NC State. In February 2001, the Board of Trustees approved the addition of the Spring Hill District, or Precinct, to Centennial Campus. The Japan Center moved into Spring Hill House in June 2001.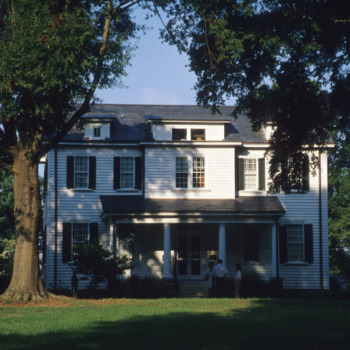 2004
Partners Building III completed
2004
Engineering Building I completed
This building was funded through the Bonds for Education program.
2004
20th Anniversary History
A history of the first 20 years of Centennial Campus was commissioned by the Centennial Campus Partnership Office.
2005
Monteith Engineering Research Center renamed
The Engineering Graduate Research Center was renamed after Larry Monteith, chancellor of NC State from 1989 to 1998.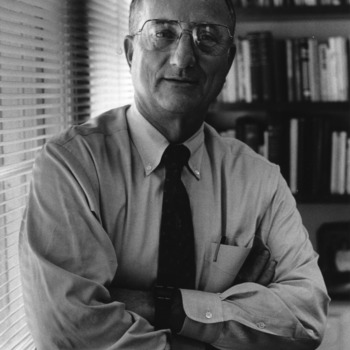 2005
Engineering Building II completed
This building was funded through the Bonds for Education program.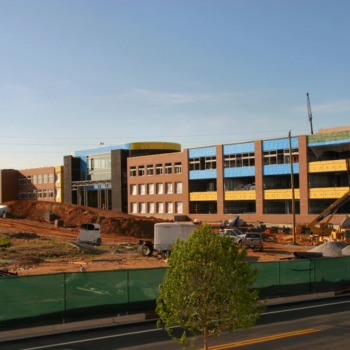 11/2005
William and Ida Friday Institute for Educational Innovation
After being established in 2003, the Friday Institute moved into its new facility in Nov. 2005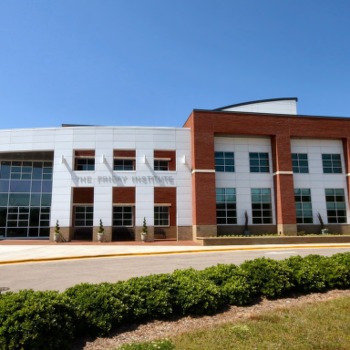 9/2006
Park Alumni Center
The Dorothy and Roy Park Alumni Center opened on the southern shore of Lake Raleigh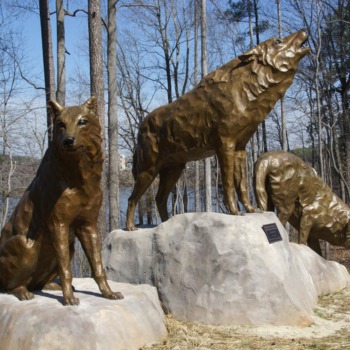 9/19/2007
BTEC established
The Golden LEAF Biomanufacturing Training and Education Center (BTEC) was established on Centennial Campus. The facility allows for simulation of biopharmaceutical products and packaging in a sterile environment.
11/01/2007
Centennial Campus named top Research Science Park of the Year
Centennial Campus was named top Research Science Park by the Association of University Research Science Parks (AURP)
2009
Keystone Science Center built
The Center, originally called the Centennial Science Center, houses the FREEDM Center, as well as office and lab space. It is on Centennial Campus.
7/31/2009
Lonnie Poole Golf Course opened
Poole was founder of Waste Industries USA, and he contributed $3 million to the project.
10/23/2009
Hunt Library groundbreaking
A groundbreaking ceremony initiated construction of the James B. Hunt Jr. Library.
2010s
9/15/2010
Engineering Building III dedicated
This building was built with 80 labs and 2 wind tunnels, and it had the first green roof on Centennial Campus.
2011
The Point completed
The new chancellor's residence replaced the one on Hillsborough Street, which then became the Gregg Museum.
2011
Pentair became an industry partner
04/2011
Innovation Cafe opens
The Innovation Cafe provides Engineering and Textiles students with a new eating option.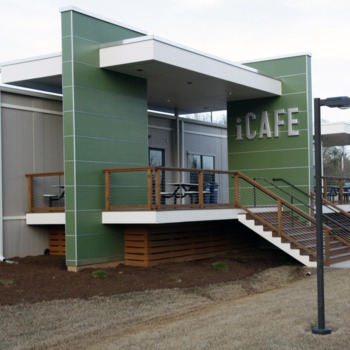 2012
Eastman became an industry partner
4/3/2013
James B. Hunt Jr. Library dedication
The library was named in honor of former four-term N.C. Governor and NC State alumnus James B. Hunt Jr. Also housed in the building is the Institute for Emerging Issues.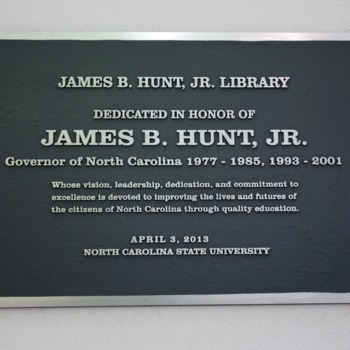 4/19/2013
Research Building I renamed Poulton Innovation Center
Research Building I was renamed after Bruce Poulton, 10th chancellor of NC State (1982-1989). The university had acquired Centennial Campus during his term in office.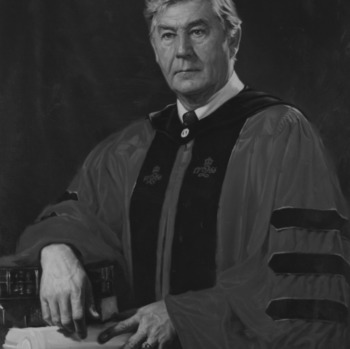 2013
LexisNexis
LexisNexis moved its Business of Law Software Solutions Division to the former Red Hat building.
8/19/2013
Wolf Ridge Apartments
The six-building complex was built to accommodate approximately 1,200 graduate and upper-division students, and it was the first LEED-certified residence hall at the university.
2013
AIA/ALA Library Building Award
Immediately after dedication, the James B. Hunt Jr. Library won the American Institute of Architects and the American Library Association Building Award. It later garnered many additional prestigious awards and was featured in Architecture magazine. Time magazine called it the "library of the future."
2014
Award Winning Hunt Library
The Hunt Library won the ALA Library Interior Design Award and the AIA Education Facility Design Award.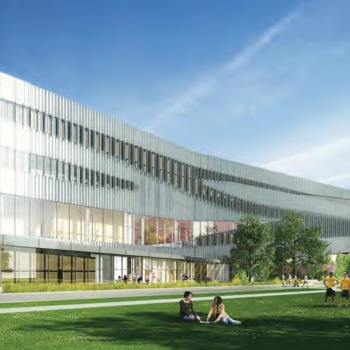 2014
The Greens apartment community opened
2014
North Shore expansion
New development began in the North Shore condominium community.
10/11/2017
StateView Hotel opened
The hotel opened with 90 king-sized rooms, 70 double-double rooms, 3 suites, a bar, a full-service restaurant, and eight meeting rooms.
1/11/2018
VF Corporation partnership announced
The university announced a partnership between the College of Textiles, the Poole College of Management, and the VF Corporation to support student development and advance apparel and textiles innovation.
2020s
2020
Fitts-Woolard Hall opens
Fitts-Woolard Hall is NC State's 225,000-square-foot engineering innovation building. Fitts-Woolard Hall brings the College of Engineering together on Centennial Campus by serving as the home for the dean's administration; the Department of Civil, Construction, and Environmental Engineering; and the Edward P. Fitts Department of Industrial and System Engineering.