1920s
1940s
1949
Pep Club formed
Head Cheerleader Scott Eubanks organized the Pep Club, a group designed to improve school spirit and increase participation at pep rallies and games.
1950s
1950-1959
Cheerleaders in wolf costume
During the 1950s, cheerleaders began to dress in a wolf costume at sports events, and members of the Red Coat Marching Band wore fiberglass wolf heads as some of the earliest known student mascots for NC State.
1955
Women positions added to cheerleading team
Head Cheerleader Billy Garrabrant announced that the cheerleading team will be co-ed by adding four women cheerleaders to the team roster.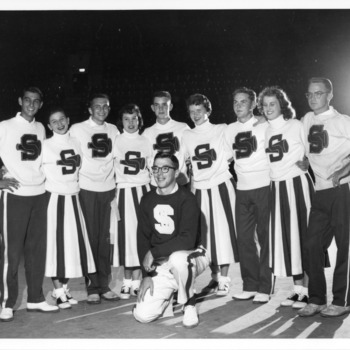 1960s
1970s
1975
Woman wolf mascot introduced
After the introduction of women's athletics to NC State, costumes were created for a woman version of the wolf mascot.
09/05/1975
First student chosen for Miss Wolf mascot
Junior varsity cheerleader Elizabeth Jan Seymour was the first woman chosen for the mascot formerly known as Miss Wolf. During Seymour's first game as mascot, the cheerleaders debuted their hand gesture now known as "wolf hands."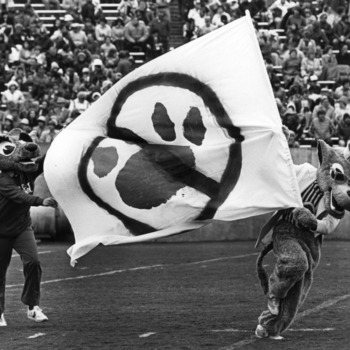 1979
Cheerleader Wanda Billingslea Farrell voiced concerns
In the Technician, one of the first African American women cheerleaders, Wanda Billingslea Farrell, called out the selection process for cheerleader tryouts as racist and biased.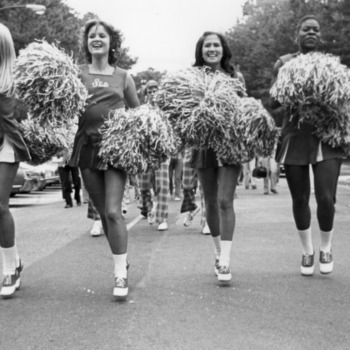 1979-1988
Cathy Buckey, cheerleading head coach
Cathy Buckey was the cheerleading coach from 1979 to 1998. During her tenure, the NC State cheerleading team won their first three national championships in 1986, 1990, and 1991.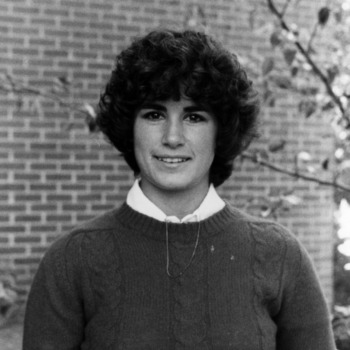 1980s
2/28/1981
Wolf mascots get married
Mr. Wolf and Ms. Wolf were married in a mock wedding ceremony by the Wake Forest Demon Deacon mascot during halftime of a Men's Basketball game at Reynolds Coliseum. The two were joined in "canis matrimonium," and Chancellor Joab Thomas gave the bride away.
1982-1983
Mascots' names changed from "Wolf" to "Wuf"
The mascots' names changed to "Wuf" when the male mascot, Scott Joseph, debuted a new body costume made by his mother. When she began sewing his name on the back of the jersey, she didn't have enough room to spell "Wolf," so she shortened it.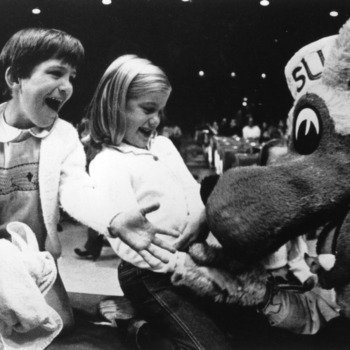 1986
Cheerleading program won NCA Collegiate Cheer Championship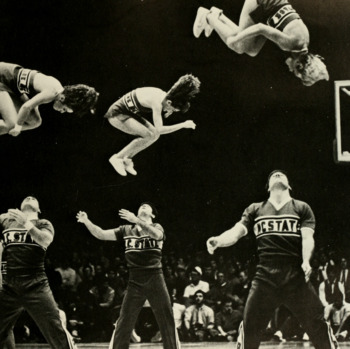 1990s
2000s
2001
Cheerleading program won NCA Collegiate Cheer Championship
01/2002
All-girl cheerleading founded
All-Girl cheerleading at NC State was created in January 2002. The organization was founded for females on campus who enjoy competitive cheerleading.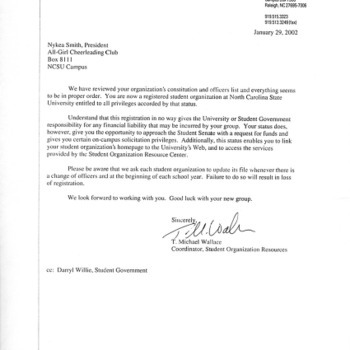 2002
Harold Trammel, head cheerleading coach
Harold Trammel, a 2000 graduate of NC State and cheerleader for five years, began position as head cheerleading coach.
2006-2007
Mr. and Ms. Wuf named "Top Mascot"
In 2006, Mr. Wuf was named the nation's top mascot, and Ms. Wuf was named top mascot the following year.
2010s
2010
Tuffy became new live mascot
A Tamaskan dog named Tuffy became the new live mascot for football games. This breed of dog resembled the wolf-like Siberian husky.
01/2011
Mr. and Ms. Wuf renewed wedding vows at basketball game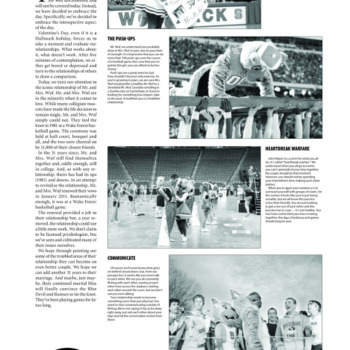 2016-2017
NC State Cheerleading won several gold medals at Cheerleading Worlds
2016
Cheerleading program won NCA Collegiate Cheer Championship
2018
Cheer team won NCA and NDA Championship
NC State won two national championships at the 2018 NCA and NDA Collegiate Cheer and Dance Championship. This marks the first time in program history NC State has captured multiple national championships in the same competition.