1890s
1894
Department of Physics and Electrical Engineering established
1900s
1901
First female student
Margaret Burke becomes the first female student to take a course at A&M (she enrolled in a physics course).
1910s
1917
Departments of Electrical Engineering and Physics established
The Department of Electrical Engineering and Department of Physics were established when the Department of Physics and Electrical Engineering separated into two programs
1940s
1949
Female faculty increases
Twenty-two women are listed on the faculty, most at the instructor or laboratory technician level. Departments with more than one female member include English (six), Statistics (three), Textiles (three), and Modern Languages (two). Women are also on the faculty in Architecture, Agricultural Economics, Mathematics, Physics, Social Studies, Chemistry, Engineering, Research, and Agronomy.
1960s
1960
Department of Physics relocated
The Department of Physics moves from the School of Engineering to become a founding department in the new School of Physical Science and Applied Mathematics.
9/25/1963
Warning to students in Physics courses
The new head of the Physics Department, Dr. Dudley Williams, is glad to have joined NC State. He warns his students that sleeping in class merits a piece of chalk thrown directly at them.
1970s
5/1975
First woman to receive Ph.D. in Physics
Meena Ajmera became the first woman at NC State to receive a doctorate in Physics.
1980s
1980
First L.H. Thomas Lecture
The first L.H. Thomas Lecture is held in the Department of Physics. In the years since, this annual lecture has quietly become one of the most prestigious general audience presentations in the Research Triangle. Through 2009, more than 20 different Nobel Prize winners have been Thomas Lecturers.
8/7/1985
Worth Seagondollar interview
In an interview with the Technician, NC State physicist Worth Seagondollar recalls his work on the Manhattan Project; he was part of a team that calculated the first critical mass of plutonium. The interview is part of a special Technician issue dedicated to atomic power.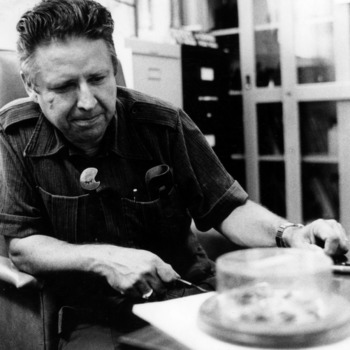 2000s
2007
Department of Physics moves
The Department of Physics moves into its new home in Riddick Hall, which had been completely gutted and renovated to provide the department with about 10,000 square feet of badly needed space for its growing number of faculty, staff and students.
2009
Department of Physics History
Jasper D. Memory and Raymond E. Fornes wrote the History of the NC State University Department of Physics: A Success Story. It was updated in 2013. A version of it exists on the departmental website.