1880s
1890s
1891
Enrollment surpasses 100
110 students enrolled for the 1891 school year.
1893
First graduate students
Six "post graduate" students enroll
1900s
1910s
1920s
1921
First full-time female student
Lucille Thomson of Wilmington becomes the first woman to enroll as a full-time student, majoring in electrical engineering.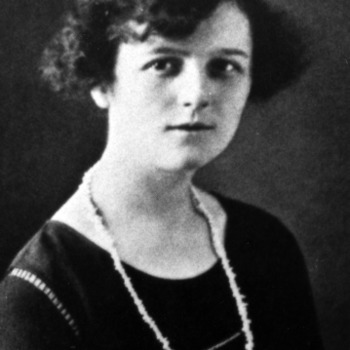 6/7/1927
First degrees conferred to women
The first degrees are conferred to women at NC State. Recipients are Jane McKimmon, B.S. in business administration; Charlotte Nelson, B.S. in education; and Mary Elizabeth Yarbrough, M.S. in chemistry. Yarbrough was the first female graduate to have completed all coursework while at NC State, and she went on to become the first woman to earn a master's degree at NC State.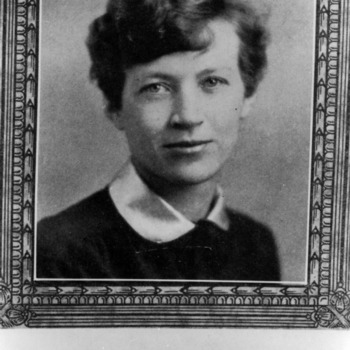 9/29/1928
Increased female enrollment
Twenty-one female students enroll at State College for the 1928-29 academic year, twice as many as the previous year.
1930s
1931
Enrollment begins a three year decline
Enrollment drops due to the onset of the Great Depression. Tuition climbs to $80 for in-state residents and $100 for out of state students.
1935
Women's enrollment drops
Women were prohibited from entering freshmen and sophomore classes to boost enrollment at the Women's College in Greensboro. The restriction lasted until 1940.
1940s
4/24/1942
Higher women enrollment sought
Increased enrollment by women needed in engineering courses; urgent appeals are made as the male students leave to fight in the war.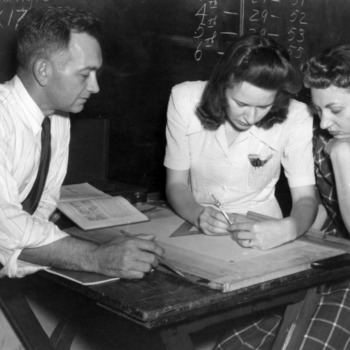 1944
Enrollment drops as a result of World War II
Enrollment nears 800 after peaking at around 2500 in 1940. Much of campus became committed to training war personnel.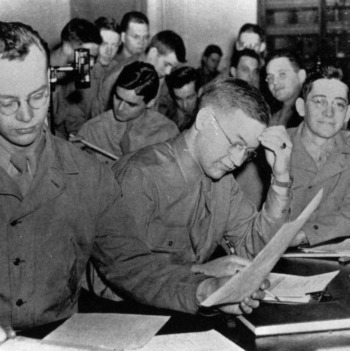 1945
Women's enrollment increases
Fifty-eight women are enrolled at NC State, many taking advantage of special scholarships to provide engineering training to women so they can work in industry during World War II.
1946
Enrollment jumps to almost 5,000 after World War II
Veterans on the G.I. Bill caused a spike in enrollment. New facilities were much-needed to accommodate the influx of students. Tuition is $90 for in-state residents and $288 for out of state.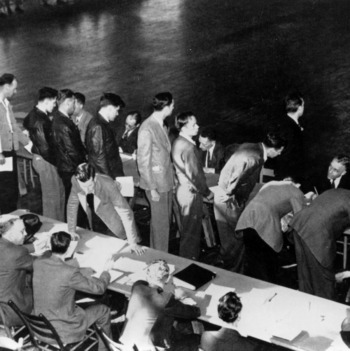 1948
Tuition rises to $150
Tuition rises to $150 for in-state residents and $360 for out of state students. Enrollment passes 5,000.
1950s
1953
First African American Graduate Students Admitted
State College admits two African American graduate students into the School of Engineering: Robert Clemons and Hardy Liston. Clemons became the college's first black graduate; Liston later withdrew and didn't complete his degree.
1955
Tuition rises to $283
Tuition rises to $633 for out of state students.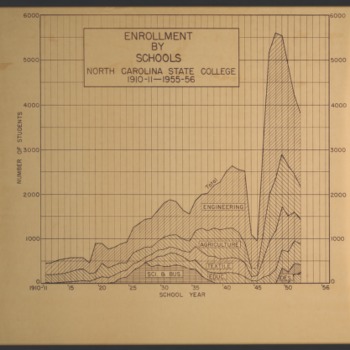 September 1956
First African American Undergraduates
The first four African American undergraduates enrolled at North Carolina State College: Ed Carson, Manuel Crockett, Irwin Holmes, and Walter Holmes.
1957
First African American Graduate
Robert Clemons received a professional degree in Electrical Engineering (PREE), becoming the first African American to graduate from NC State.
1960s
1962
Women's enrollment passes 200
Over 7000 total students enrolled, an increase of about 20 percent.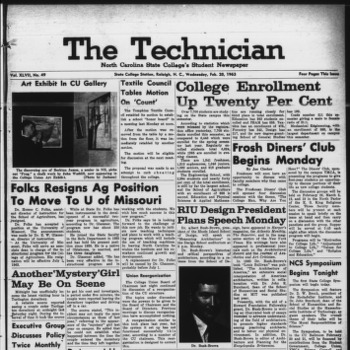 1966
Enrollment passes 10,000
10,203 students entered NC State in the fall of 1966. Tuition was $357 for in-state and $782 for out of state students. There were over 1,000 women enrolled.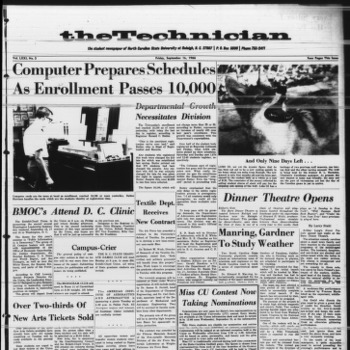 1968
Women's enrollment almost 1700
Women's enrollment continues to grow.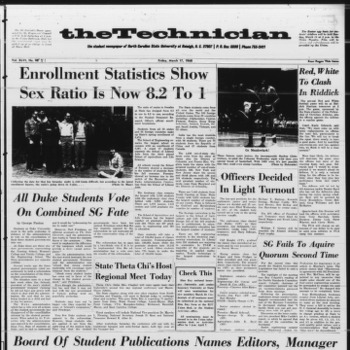 1969
Enrollment of African American Students Reaches 200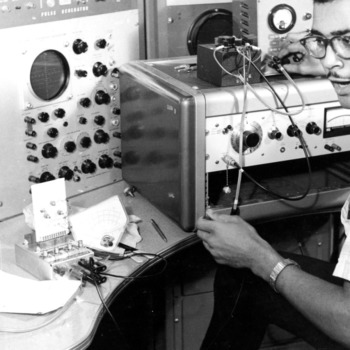 1970s
1971
Enrollment of African American students drops below 200
The drop spurs the university to increase recruitment efforts.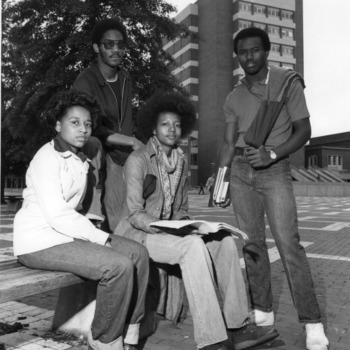 1974
Enrollment passes 15,000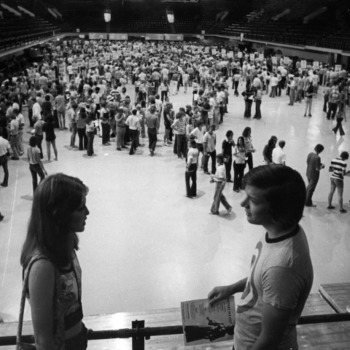 1975
Tuition drops to $330
Tuition drops from $357 to $330 for in-state students but jumps to $1,876 for out of state students.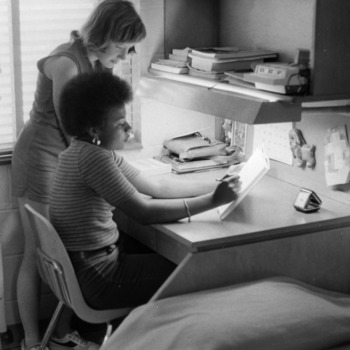 1978
Enrollment of African American students passes 1000
Women's enrollment passes 6,000 and 84 Latinx students enroll.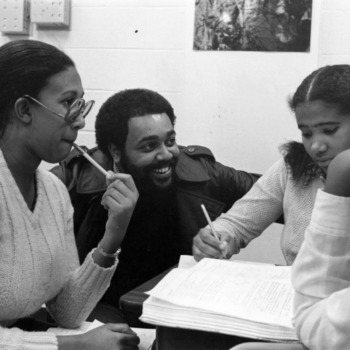 1980s
1980
Enrollment passes 20,000
Despite new caps to stay within budget, enrollment continued to climb steadily.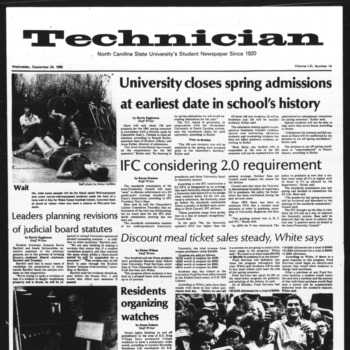 1987
Tuition increases to $852 for in-state students
After rising to $480 in 1983, tuition leaps to $852. UNC System President C.D. Spangler supports students protesting the increase.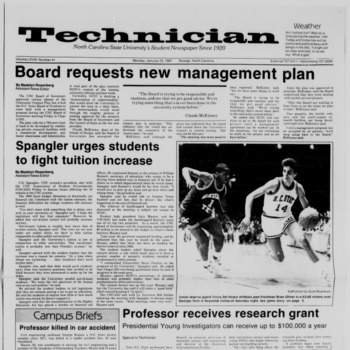 1989
Enrollment of women passes 10,000
Tuition for in-state students jumps again, to $922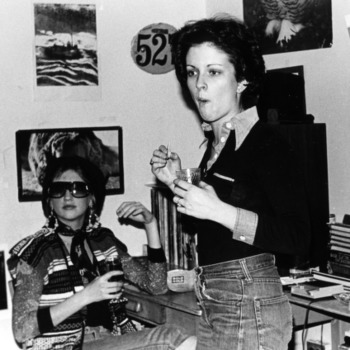 1989
Diversity Milestones
Enrollment of African American students passed 2000, Latinx students passed 200, and international students passed 1000.
1990s
1990-1999
Enrollment remains steady through the 1990s
Total enrollment stays in the 27,000 range throughout the 1990s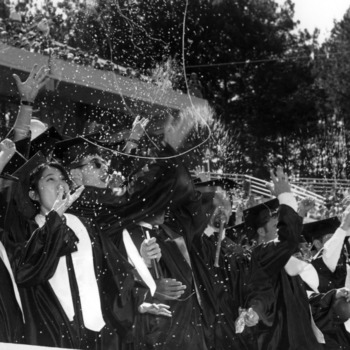 1991
Tuition jumps
Tuition rises from $922 to $1044 for the start of the 1991 academic year.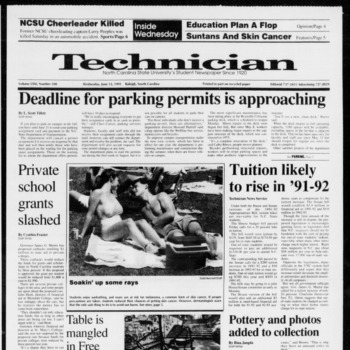 1996
Tuition drops after a series of hikes
Tuition drops from $1584 to $1386 after increasing throughout the early 1990s.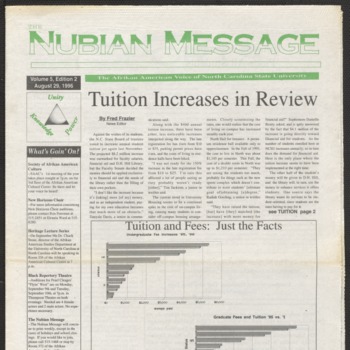 1998 October
Enrollment of African Americans Slows
A survey done by the Southern Education Foundation finds that percentage enrollment of African Americans has remained the same for the past 20 years.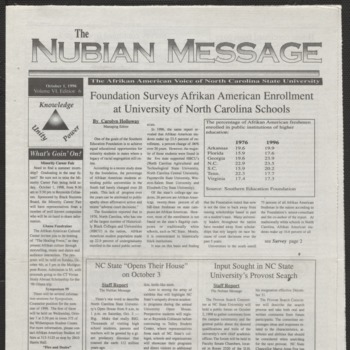 1999
Tuition breaks $1500 for in-state students
Tuition continues to rise over the next 5 years.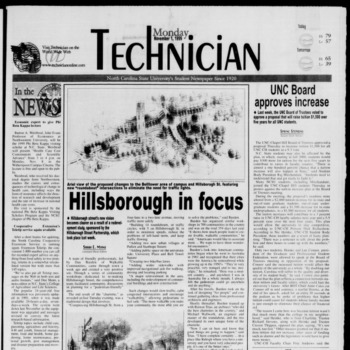 October 28, 1999
NC State students support UNC students facing a tuition hike
Student Body President Raj Mirchandani urges State students to join in solidarity with UNC, fearing NC State will be next.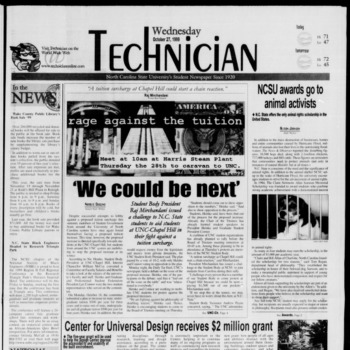 2000s
2000
Enrollment of women breaks 12,000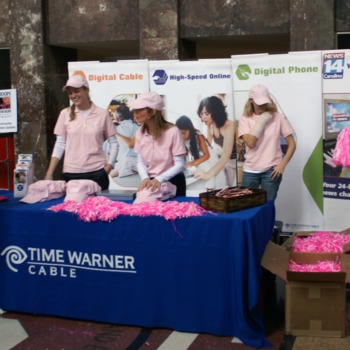 March 6, 2002
Students protest as tuition continues to rise
In March of 2002, the Board of Governors passed an 8% raise in tuition. The tuition in fall of 2002 was $2,814, compared with $2,328 the previous year. Students protested the March 6th Board of Governors meeting.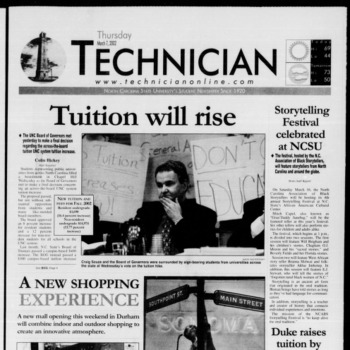 2003
Enrollment of African American students peaks at 2900
While overall enrollment continues to grow, the number of non-white students enrolling begins to decrease throughout the 2000s.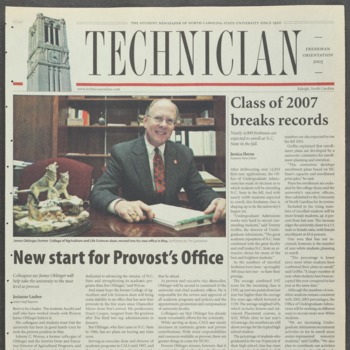 2005
Enrollment passes 30,000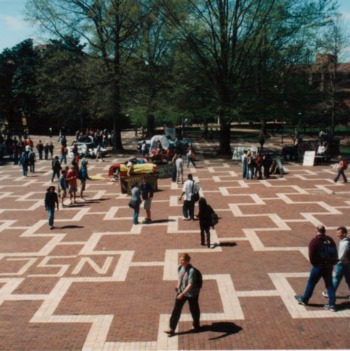 2010s
2011
Tuition breaks $5,000 for in-state students
Tuition for the 2011-2012 academic year was $5,153.
2015
Enrollment of International students passes 4000
2015
Enrollment of Latinx students at 1487
The 2015 NC State Hispanic/Latino Fact Sheet reported this figure, breaking it down to 1123 undergraduates and 364 graduate students.
2018
Asian Enrollment at NC State
According to data from the Office of Institutional Research and Planning, in 2018 NC State had a total of 2,282 enrolled students who were identified as Asian, out of a student body of 35,479. The data does not distinguish U.S. nationals or international students within the Asian enrollment data.