1890s
1898
First track team organized
The first track team was organized for intercollegiate competition but disbanded after the season.
1900s
1905
Track team formed again
Track reappeared as a sport after several years of being disbanded.
1910s
1920s
1923
Track and cross-country teams granted varsity status
1927-1928
Jack McDowall named "Top Athlete"
McDowall played on the football, men's basketball, baseball, and track & field teams earning 11 varsity letters in the four sports. In 1927 and 1928, he won the Norris Athletic Trophy as NC State's top athlete. He held the school record for the longest punt return at 95 yards. He was considered NC State's top athlete of the first half-century of the college's athletics program. He was named to the North Carolina Sports Hall of Fame in 1965, the ... More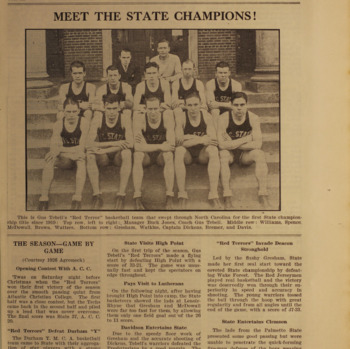 1950s
1970s
3/27/1971
Mile run record set
Jim Wilkins of NC State set a new time record of 4:01 in the individual mile run in Gainesville, Florida.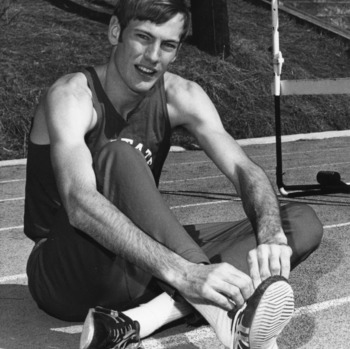 4/14/1972
New mile run record set
NC State student Jim Wilkins set another record in the individual mile run in a meet against Wake Forest and broke his own record from the year before.
1979
Paul H. Derr Track named
The University Track was named the Paul H. Derr Track for the long-time track and field coach.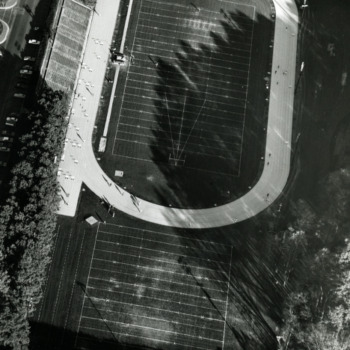 1980s
1983-1988
Outdoor track and field team won ACC championships
The men's outdoor track and field team won five consecutive ACC championships from 1983 to 1988.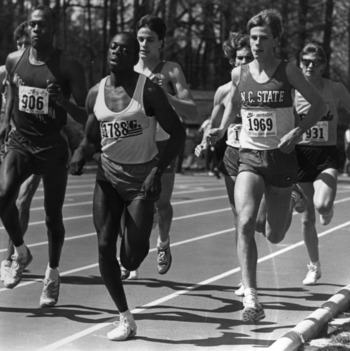 1984
Sprinter Auguston Young competed in Olympics
Sprinter Auguston Young competed for the Jamaican men's track and field team in the 1984 Olympics at Los Angeles.
1985
Men's 4 x 100 meter relay team won NCAA championship
1986
Danny Peebles honored
Peebles was named ACC track and field "Most Outstanding Performer" in 1985 and 1986. He was a nine-time track and field All-American and nine-time ACC champion. He was one of the winners of the 1985 NCAA championship in the 4 x 100m relay. He was a member of track and field teams that won ACC Outdoor Championships (1985-1988) and Indoor Championships (1988). Peebles was also a member of the football team, and he played in the 1988 Peach Bowl ... More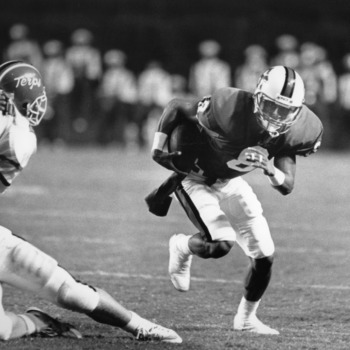 1988
Men's track and field won ACC championship
The men's indoor track and field team won their first ACC championship in 1988.
1990s
1993
Tyrell Taitt won NCAA championship
Tyrell Taitt won the Wolfpack's first individual only NCAA championship in the outdoor triple jump event.
1996
Men's outdoor track and field team won ACC championship