1930s
1940s
1948-1949
Charlie Tripp, men's golf head coach
1950s
1970s
1980s
1983
Men's golfer Nolan Mills named ACC Individual Champion
1989-1990
Men's golf won ACC Championship
1990s
1991
Men's golfer Kelly Mitchum named ACC Individual Champion
1995
Men's golfer Hank Kim named ACC Individual Champion
1997
Tim Clark won Second NCAA Regional Championship
Tim Clark was one of four players in school history to be named All-American three times and owned the school record at the NCAA Championship for a 54-hole and 72-hole score. Clark was also a member of five team championships and the 1996 East Regional championship team. He joined the PGA tour after college.
2000s
2004
Short game practice golf facility opened
NC State opened its golf short game practice facility in August 2004 on campus at the University Club.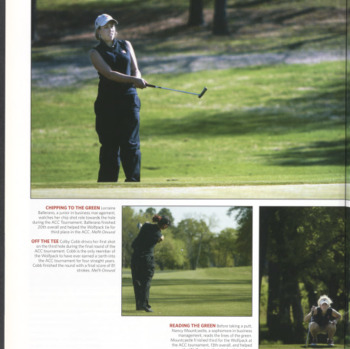 2005-2012
Golfing Alum Carl Pettersson wins 5 PGA Tours
2009
Men's golfer Matt Hill named ACC Individual Champion
7/31/2009
Lonnie Poole Golf Course opened
Poole was founder of Waste Industries USA, and he contributed $3 million to the project.
2010s
2017-
Press McPhaul, men's golf head coach