1940s
1947
Unofficial soccer team formed
International students formed an unofficial soccer team and played against other nearby colleges for two seasons. Professor Eric DeGroat served as advisor and coach.
12/1949
Soccer became varsity sport
The Athletics Council voted to make soccer a varsity sport.
1950s
1950-1955
Eric DeGroat, men's soccer head coach
Fall 1950
Varsity soccer began
1951
First men's soccer All-American selected
Kare Kragas was named the men's soccer team's first All-American player.
1956
John Kenfield, men's soccer head coach
1957-1960
Bill Leonhardt, men's soccer head coach
1960s
1970s
1978-1985
Larry Gross, men's soccer head coach
1990s
1988-1991
Henry Gutierrez's career at NC State
Soccer midfielder and forward Henry Gutierrez was a three-time All-American in 1988, 1990, and 1991. He was a two-time ACC "Player of the Year" in 1990 and 1991. After college, Gutierrez became a member of the U.S. National Team and played Major League Soccer before embarking on a successful coaching career.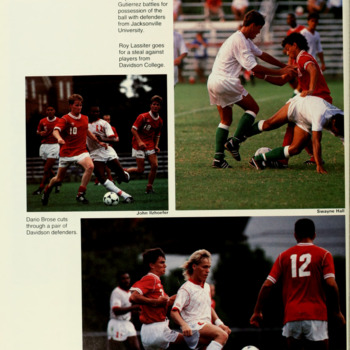 1990
Men's soccer won ACC championship
The men's soccer team won its first ACC championship, and Henry Gutierrez scored the game-winning goal. The team also made an appearance in the Final Four of the NCAA Tournament in 1990.
1992
Scott Schweitzer named ACC's "Player of the Year"
A two-time All-American, Scott Schweitzer was named ACC's "Player of the Year" in 1992. Schweitzer was a part of the team that made a NCAA Final Four appearance in 1990.
1992
Dario Brose competed in Olympics
Dario Brose competed as a member of the 1992 U.S. national team in the Barcelona Olympics. At NC State, Brose was a two-time All-American and the three-time All-ACC soccer player.
1994
Men's soccer won first ACC regular season title
2000s
2002
ACC 50th anniversary soccer team selected
As part of the ACC celebrating its 50th anniversary, the conference named its 50 top players in each sport. Wolfpack soccer players included on the list were Dario Brose, Henry Gutierrez, Roy Lassiter, Pablo Mastroeni, Chris Ogu, Sam Okpodu, Tab Ramos, Scott Schweitzer and Chris Szanto.
2002-2006
Men's soccer player competed at World Cup
Pablo Mastroeni of Argentina was selected to compete for the U.S. National Team at the World Cup in 2002 and 2006. He played for the NC State men's soccer team from 1994 to 1997.
2005
Aaron King named All-American
Aaron King was named a second-team NCSAA/Adidas All-American. King was NC State's first All-American since Scott Schweitzer earned the title in 1992.
2010s
2011-2016
Kelly Findley, men's soccer head coach
2017-
George Kiefer, men's soccer head coach