1950s
1960s
1960
First African American athletics team captain
Irwin Holmes became co-captain of the tennis team and first African American athletics team captain at NC State.
1967
Norm Chambers, men's tennis head coach
1968-1981
J. W. Isenhour, men's tennis head coach
J. W. Isenhour coached the men's tennis team to two ACC Championships and guided seven doubles teams and nine singles players to ACC titles.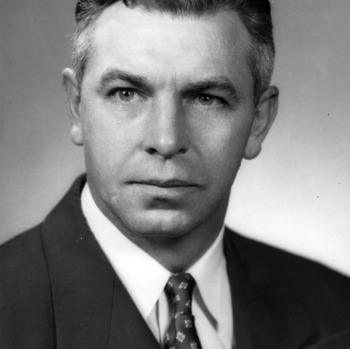 1970s
1977-1978
John Sadri won ACC championships
John Sadri was the ACC Champion in singles men's tennis in 1977 and 1978 as well as in doubles in 1976 and 1978. He was the 1978 NCAA Championship runner-up, losing to Stanford Freshman John McEnroe. He was inducted into the North Carolina Tennis Hall of Fame in 2001.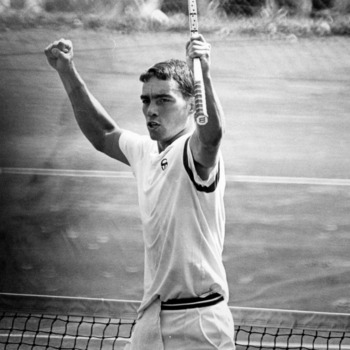 1977-1980
Matt McDonald won ACC titles
During his time at NC State, Matt McDonald won two ACC team championships, three double ACC titles, and two ACC individual titles.
1978-1981
Andy Andrews won ACC individual titles
Andy Andrews earned five ACC individual titles over the course of his career at NC State. He took the No. 5 singles conference championship and the No. 2 singles ACC title. He also won back-to-back ACC doubles titles, winning with Matt McDonald in 1980 and Mark Dillon in 1981.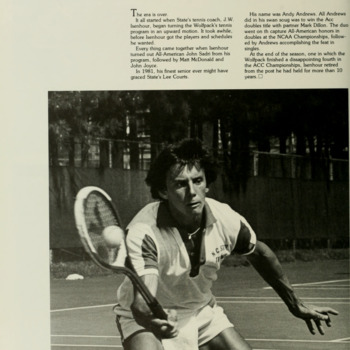 1978-1979
Men's tennis won ACC team championship
1980s
1990s
2000s
2003-2017
Jon Choboy, men's tennis head coach
2004
J.W. Isenhour tennis facility completed
The J.W. Isenhour Tennis Center was completed in 2004 in honor of previous men's and women's tennis head coach J.W. Isenhour, who coached from 1968-1981.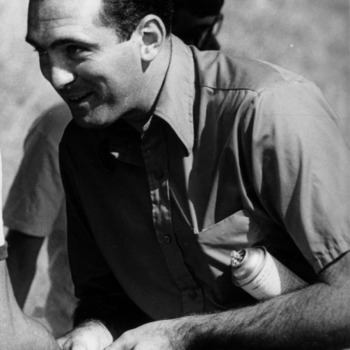 2007
Men's tennis advanced to Elite Eight
NC State advanced the Elite Eight in the NCAA tournament, a first for Wolfpack men's tennis.
2010s
2018-
Kyle Spencer, men's tennis head coach