NC State During World War II
NC State During World War II
1940s
1941
Diesel Program
One of the most significant contributions to the war effort is the Diesel Program, developed by the Mechanical Engineering Department. The program trains more than 1,500 members of the Navy.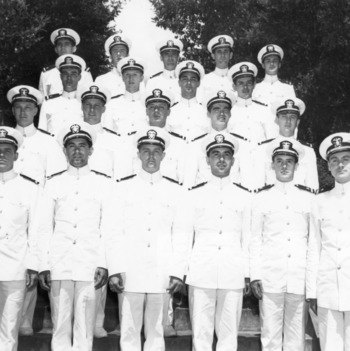 1942
Reba Clevenger and World War II
Reference Librarian Reba Clevenger became the acting college librarian during World War II, when all male library staff members left for military service. Library Director Harlan Brown took a leave of absence until 1946.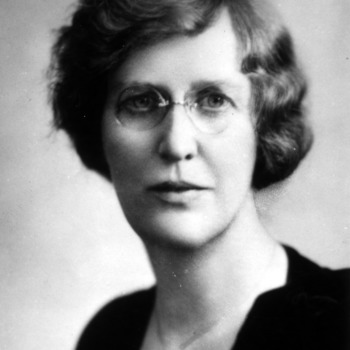 1/30/1942
Early graduation approved
The faculty approves a plan to allow seniors who are taking jobs in essential industries or joining the military to graduate early.
4/17/1942
Special summer courses
The faculty approve a plan to hold fall engineering classes in the summer as part of a nationwide war effort to accelerate graduation at technical schools for the benefit of the war effort.
4/24/1942
Higher women enrollment sought
Increased enrollment by women needed in engineering courses; urgent appeals are made as the male students leave to fight in the war.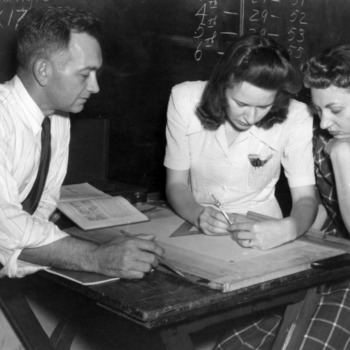 4/24/1942
Blood drive
Students hold a blood drive to support the war effort.
10/7/1942
Scrap metal drive
Students gather over 150,000 pounds of scrap metal in 3 hours for the war effort; a banner over the collection pile reads "To Hitler & Co. from NC State College."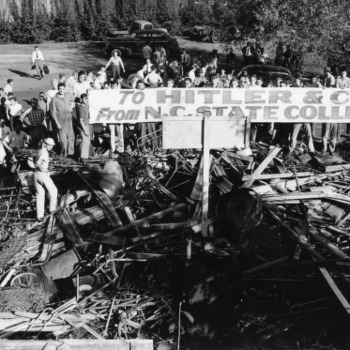 2/12/1943
Defense classes
Plans are announced for up to 2,000 military trainees to enroll at State College to take specialized defense classes through the United States War Department; the college will operate as two separate units: one for the military and one civilians.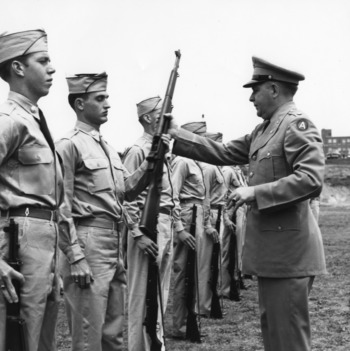 3/8/1943
Harrelson reports for military service
Col. John Harrelson, Dean of Administration, reports for active Army duty; he becomes the 56th faculty member at State College to enter active service and the first head of a major college in the South to be called for permanent active duty.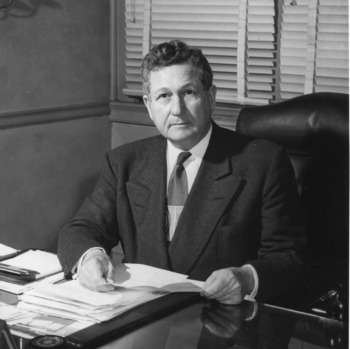 4/9/1943
Enrollment decline
Enrollment hits the lowest mark in 20 years, due to the number of students leaving to join the military.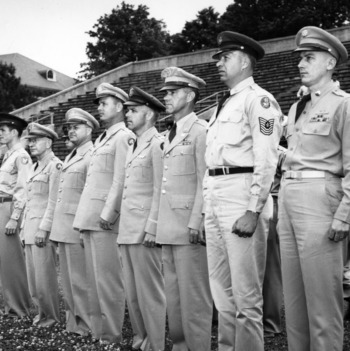 1944
Diesel Building built
During World War II, State College formed a partnership with the U.S. Navy to train naval officers in diesel engineering. The Diesel Building was constructed to house this project. It was designed by Ross Edward Shumaker and became part of Broughton Hall in 1951.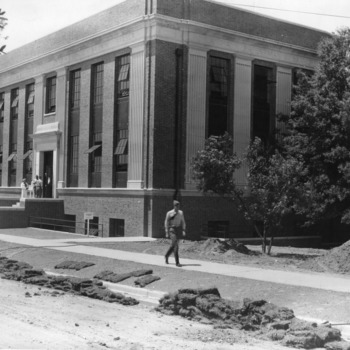 2/25/1944
Alumni in the Armed Services
Over 5,000 NC State alumni reported to be serving in the Armed Services, six of whom have obtained the rank of General.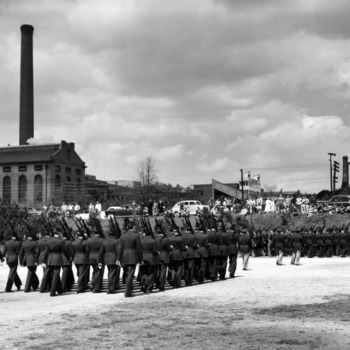 1945
Women's enrollment increases
Fifty-eight women are enrolled at NC State, many taking advantage of special scholarships to provide engineering training to women so they can work in industry during World War II.
6/10/1945
Late release of Agromeck
The 1945 Agromeck is printed and released late, due to wartime restrictions.
8/1946
Trailwood founded
More than 75 trailers (forming what was known as the "City of Trailers" or "Trailwood") were constructed so that married WWII veterans and their families could attend NC State on the GI Bill. In 1949, Trailwood was relocated, and Williams Hall was built in its place.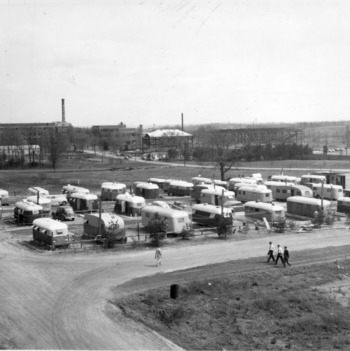 9/28/1946
Marching band returns
A football game against Duke marks the first appearance of the marching band following the conclusion of World War II.