Viz Studio
Timeline for Welcome Week 2022, Student Life
1880s
1889
Pullen Literary Society founded
This student organization frequently engaged in formal debates with the Leazar Literary Society. It remained active until the early 1930s.
1890s
1892
First international student enrolls
Cuban Jose Fabio Santo Trigo becomes the first international student to enroll at A&M College.
6/20/1893
First commencement
Nineteen students receive degrees during the first commencement ceremony held at A&M College.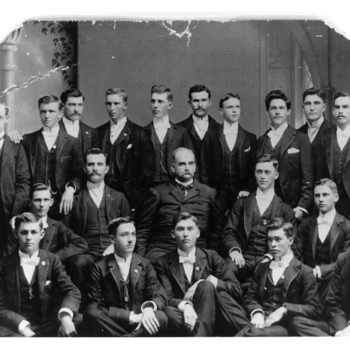 1895
Sigma Nu becomes first fraternity
A chapter of Sigma Nu was created, making it the first fraternity established at NC State.
11/1895
Red and white chosen
A majority of students chose red and white as colors for the sports teams. The colors changed a couple different times during the early years of the college. The faculty agreed to the adoption of red and white and stated that they could not be changed again without a vote of two-thirds of the student body. The colors have remained the same ever since.
1898
First Asian Graduate
Teisaku Sugishita of Japan graduates with a degree in Civil Engineering, becoming the first Asian student to receive a degree from NC State. Sugishita enrolled in 1894.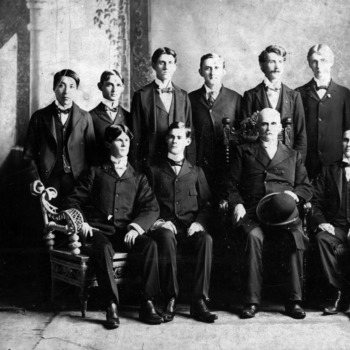 1900s
1910s
1920s
1921-1922
Averette Gaston Floyd
First Student Body President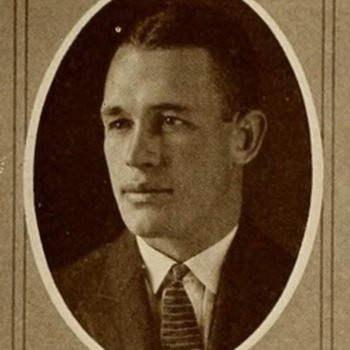 1922
Freshman Caps required
The Student Council requires all first-year students to wear the caps on campus, citing a need to boost school spirit and reduce hazing. The Court of Customs, a branch of Student Council, can punish students who don''t comply. Freshmen start a tradition by burning their caps just before their spring final exams.
1925
Textile Exposition and Style Show
The School of Textiles hosted the inaugural Textile Exposition and Style Show. Students organized style shows to display their fabric designs. Students from local women's colleges participated in the event by creating fashions from fabrics made by NC State students and by modeling for the shows. These popular style shows were held in Pullen Hall. After the show, the audience and contestants visited Tompkins Hall to attend the NC State College Textile ... More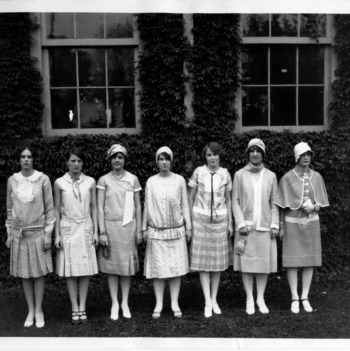 10/15/1925
D. H. Hill Jr. Library in Brooks Hall
The original D.H. Hill Jr. Library (in what later became Brooks Hall) was designed by Hobart Brown Upjohn and named for Daniel Harvey Hill, Jr., the first faculty member to oversee the library.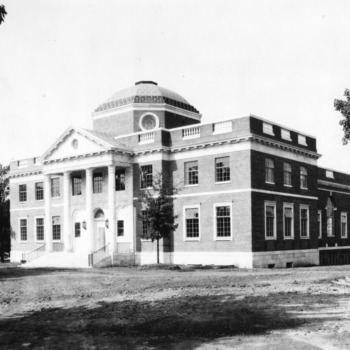 2/26/1927
First female Phi Kappa Phi member
Jane S. McKimmon becomes the first female inducted into NC State's chapter of Phi Kappa Phi.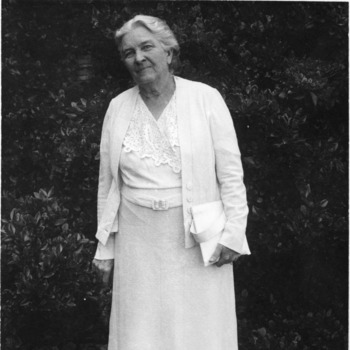 6/7/1927
First degrees conferred to women
The first degrees are conferred to women at NC State. Recipients are Jane McKimmon, B.S. in business administration; Charlotte Nelson, B.S. in education; and Mary Elizabeth Yarbrough, M.S. in chemistry. Yarbrough was the first female graduate to have completed all coursework while at NC State, and she went on to become the first woman to earn a master's degree at NC State.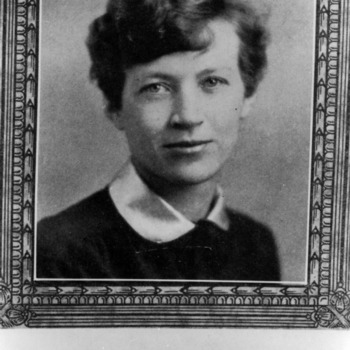 1930s
1930
First woman to enroll as a freshman
Ada Curtis Spencer becomes the first woman to enroll as a freshman and complete a four-year degree from NC State. She majored in social science.
1930
Sam Gurneau
Gurneau (part Ojibwe) was a star athlete in football, basketball, track, and wrestling. He intercepted and ran 65 yards for a touchdown versus Carolina in November 1930.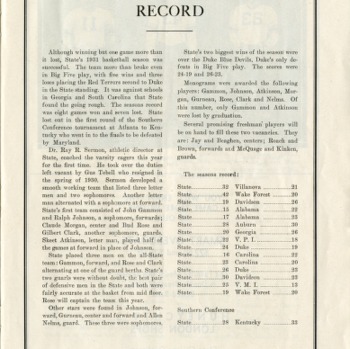 5/13/1939
Annual Pushball contest
Freshman and sophomores battle in the annual Pushball contest, consisting of pushing a ball 6 feet in diameter and weighing 75 pounds into the opponent's goal.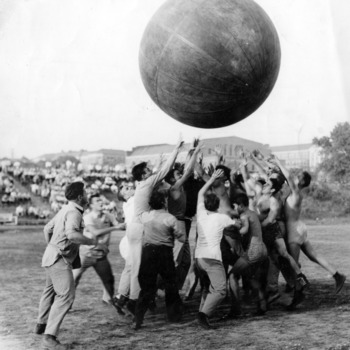 1940s
1950s
September 1956
First African American Undergraduates
The first four African American undergraduates enrolled at North Carolina State College: Ed Carson, Manuel Crockett, Irwin Holmes, and Walter Holmes.
1957
First Integrated Athletic Team
African American student Irwin Holmes joins the tennis team, making it the first integrated athletic team at State College.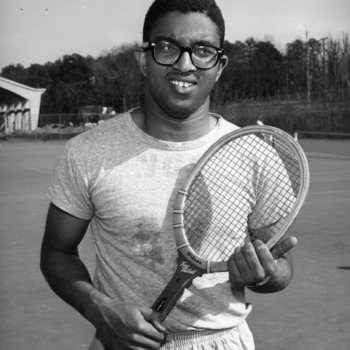 10/1959
First sorority
Gamma Phi chapter of the Sigma Kappa sorority was established. This was the first active chapter of a national sorority at NC State. They held their first pledge dance at the Carolina Hotel on 14 March 1960.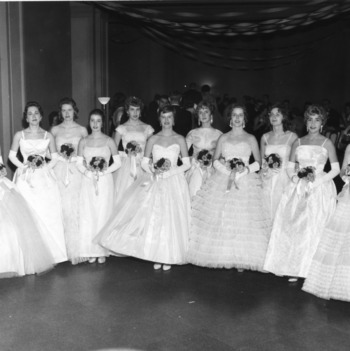 1960s
1960
First African American Athletics Team Captain
Irwin Holmes became co-captain of the tennis team, making him the first African American athletics team captain at NC State.
4/30/1963
Protest Over Racial Segregation
A group of NC State students join with students from Shaw University to protest racial segregation policies in effect at the State Theater on Salisbury Street.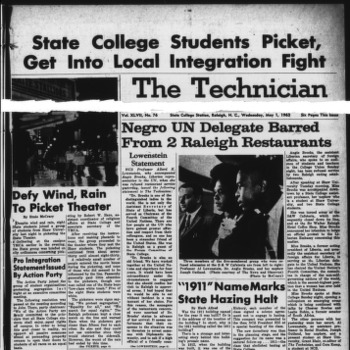 1966
First African American Woman Undergraduate Degree Recipient
Norma Wright Garcia becomes the first African American woman to receive an undergraduate degree, earning a BA in history.
1967
Al Heartley
Heartley was one of the first African Americans on the basketball team. In 1969 he became the first African American to be awarded a basketball scholarship at NC State. He later became the first African American captain of the team (1970-1971), and the first African American to win the Alumni Athletics trophy (1971).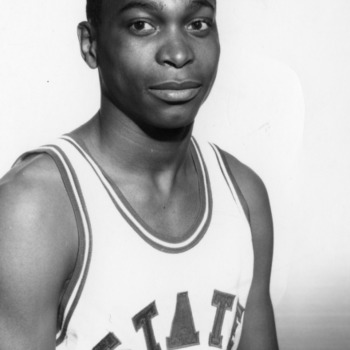 12/4/1967
Free Expression Tunnel conduct established
Rules are established by the Campus Welfare Committee concerning the painting of the Free Expression Tunnel. Any use of obscenity or vulgarity "will be considered a Campus Code offense" and untasteful remarks will be removed.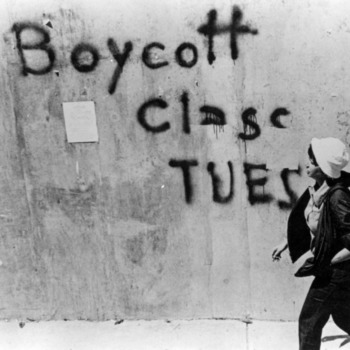 1968
Ed Leftwich
Leftwich was recruited to the basketball team. He was the first African American freshman to receive a basketball scholarship.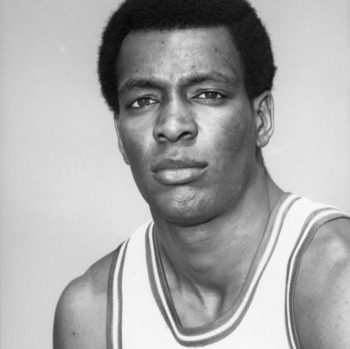 1969
First African American Student Senate President
Eric Moore became the first African American Student Senate President.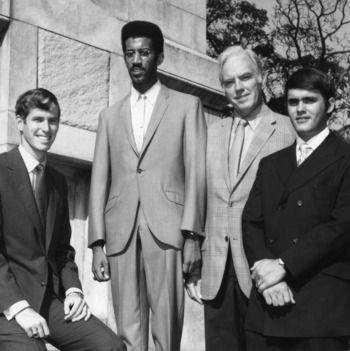 1969
First African American Football Scholarship Recipient
Clyde Chesney becomes the first African American to receive a football scholarship.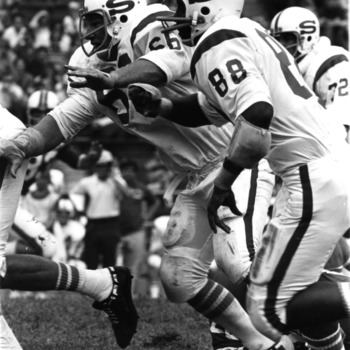 2/28/1969
Student Rally
A group of students hold a rally to support better wages and working conditions for non-academic Physical Plant workers on campus. The protest is organized by the Society of Afro American Culture and an offshoot of Students for a Democratic Society calling themselves "The Group."
10/14/1969
Vietnam Symposium
NC State responds to a call for campus protests nationwide, as a "moratorium" against the Vietnam War. A faculty-student committee organizes a Vietnam Symposium, with Chancellor John Caldwell as keynote speaker and several faculty members talking on the impact of the war.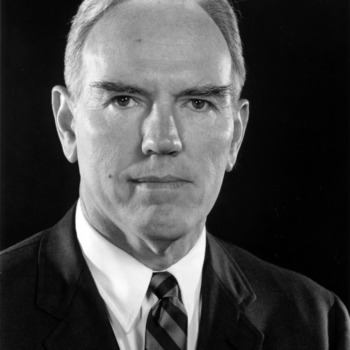 1980s
2/28/1981
Wolf mascots get married
Mr. Wuf and Ms. Wuf were married in a mock wedding ceremony by the Wake Forest Demon Deacon mascot during halftime of a Men's Basketball game at Reynolds Coliseum. The two were joined in "canis matrimonium," and Chancellor Joab Thomas gave the bride away.
2/4/1982
Iranian student protest
Iranian students protest the execution of 50 people by Ayatollah Ruhollah Khomeini. The students ask to remain anonymous for fear of losing their rights in Iran.
1987-1988
Kevin Howell
Howell was the first African American to serve as Student Body President. He was a political science major. After graduation, he eventually became the university's primary liaison with state and local governments. In 2016 he became the senior vice president for external affairs of the UNC System.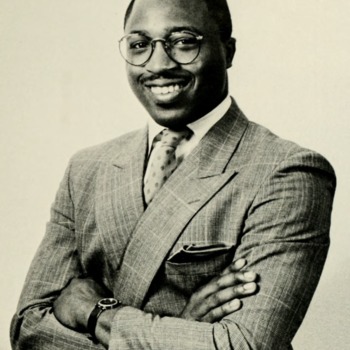 1988
African American Student Leaders Hold Meeting
Black student leaders gathered at the Student Center to discuss campus issues. The low graduation rate for black students, the lack of African American faculty members and athletic administrators, and the discriminatory discipline practices within the athletics department were problems cited by black leaders during this meeting.
10/27/1988
First Take Back the Night March
NC State's first Take Back the Night march and rally was held to protest violence against women. This has been an annual event since.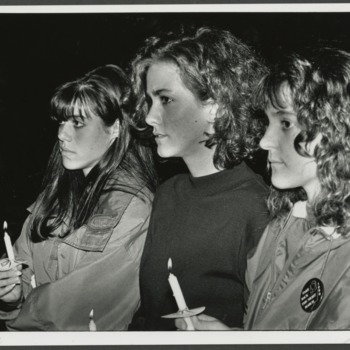 1989
Lesbian and Gay Student Union
The Lesbian and Gay Student Union was a student group, not an office or building, and it was also known as the Lesbian/Gay Student Union. It came into existence in 1989 and was active until 1996. It may have been the first gay and lesbian student group to receive appropriations from Student Government.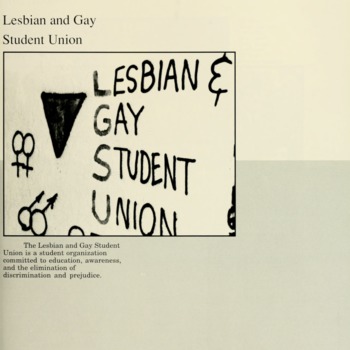 1990s
1990
1st Annual Pow Wow
The Native American Student Association sponsored NC State's first Annual Pow Wow. Every year after, the event has featured Native American culture, including food, dress, and especially dance.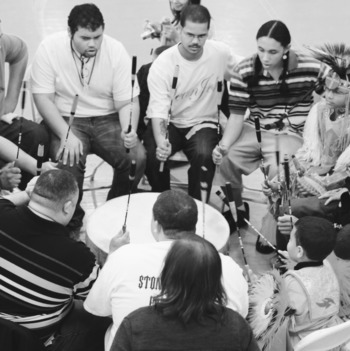 1991
African American Cultural Center opens
African American Cultural Center opened in the new Student Center Annex (later renamed Witherspoon Student Center). In 1992, following months of student and faculty protests, NCSU administrators granted the African American Cultural Center an operating budget.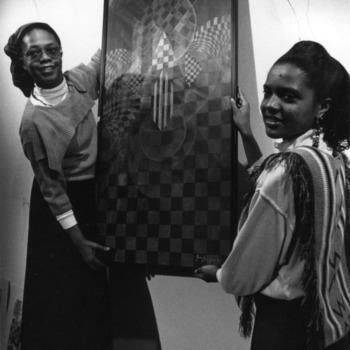 11/30/1992
The Nubian Message began publication
The Nubian Message began publication in response to student protests alleging racial bias by the Technician. Tony Williamson served as the paper's first editor-in-chief. The paper was first released in Talley Student Center. In the inaugural issue, Williamson stated his intention to "totally, truthfully, and faithfully cover every aspect of African American life at NCSU" and his hope that the Nubian Message would become "the media voice for African ... More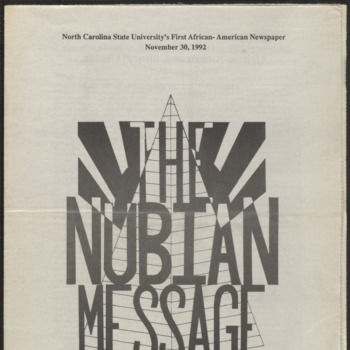 3/3/1994
Anti-Hate Rally
Several student groups organized an anti-hate rally in Harris Field in response to recent rapes on campus, sexual harassment in classrooms, racist remarks from professors, and anti-gay messages in the Free Expression Tunnel.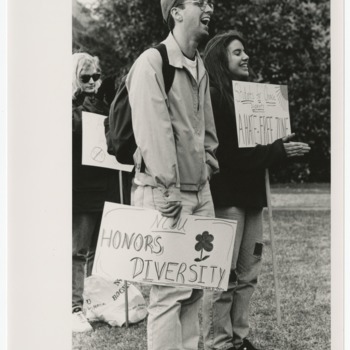 1996
Twenty-four hour library
The NCSU Libraries begins twenty-four hour service (Sunday through Thursday), funded by university tuition-increase revenue that faculty advocated be allocated to the Libraries.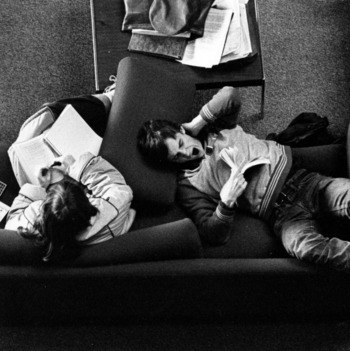 1998-1999
Jenny Chang
First Asian American woman Student Body President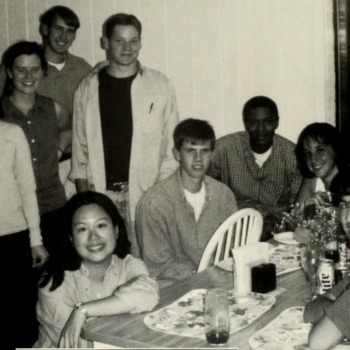 November 10, 1998
Native American 10 Commandments
The Society of Native American Culture published the Native American 10 Commandments in the Technician.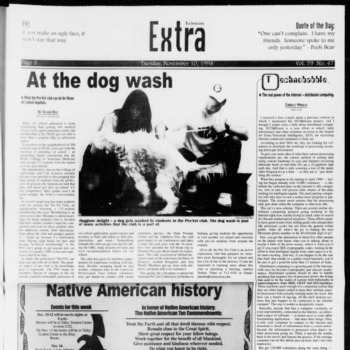 2000s
August 17, 2001
1st Annual Native American Symposium
The Technician reported that the Native American Symposium offered information for incoming freshmen, including information on navigating campus.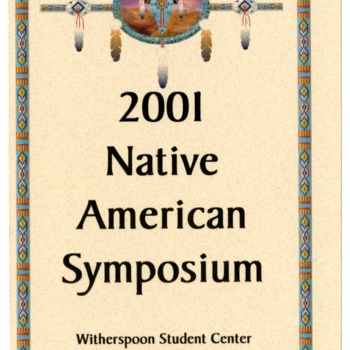 10/2004
Students Protest Appropriations for African American Clubs
African American students participated in a sit-in at a Student Senate meeting to express concern for the lack of funding for African American organizations. Out of $40,000 of appropriations, African American organizations received a mere $755. The Student Senate agreed to send the bill back to committee for re-evaluation.
2/9/2005
Somos Estrellas
Mi Familia and SHPE presented a Latin American cultural variety show called "Somos Estrellas" in Stewart Theatre.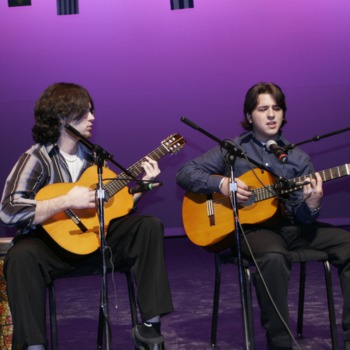 2008
Native American Culture Night
Native American Culture Night became an annual event sponsored by the Native American Student Association.