1980s
2000s
2000
Women's Golf reinstated as a varsity sport
Women's golf is reinstated as a varsity sport after disbanding in the 1980s.
2000
Page Marsh, women's golf head coach
Page Marsh coached the team to nine tournament team titles, and six individuals have captured medalist honors on eight separate occasions. Marsh earned ACC Coach of the Year honors in 2002.
2004
Short game practice golf facility opened
NC State opened its golf short game practice facility in August 2004 on campus at the University Club.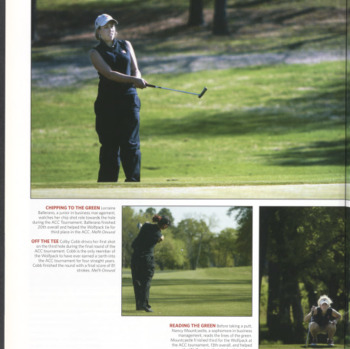 2008
Women's golfer Lauren Doughtie competed in NCAA tournament
Lauren Doughtie became the first women's golf player in school history to compete at the NCAA tournament when she qualified as an individual.
2010s
2012
Women's golf qualified for NCAA Team Championship for the first time in program history
2014
Women's golf completed best season in program history
Women's golf completed its best season to date earning 10th place at the NCAA Championship. NC State placed third at both the ACC Championship and the NCAA East Regional.
2017
Women's golfer India Clyburn named to All-ACC Team
India Clyburn was named to the 2017 All-ACC Team, leading the team with the highest stroke average. Clyburn held the women's golf program record for season stroke average.
2018-2019
Women's golf NCAA Regional appearances
Women's golf made its 17th NCAA Regional appearance in the last 18 years. The team posted the second-lowest 18-hole (285) and 54-hole (881) scores in program history at the NCAA Regional.